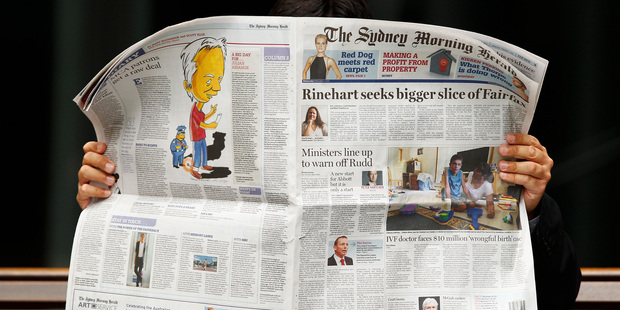 Fairfax Media, the Australian media group that took more than A$1 billion of charges against goodwill and mastheads in 2010, has written down the value of those assets by a further A$2.8 billion, widening its annual loss. It will still pay a 1 Australian cent dividend.
The loss was A$2.73 billion (NZ$3.5b) , or A$1.162 per share, in the 12 months ended June 24, from a loss of A$401 million, or 17 Australian cents, a year earlier, the Sydney-based company said in a statement. Sales fell 6 per cent to A$2.32 billion, resulting in a 17 per cent decline in earnings before interest, tax, depreciation and amortisation fell to A$506 million.
Operating cash flow plunged to A$267.6 million from A$431.4 million.
The value of the New Zealand mastheads, which include the Dominion Post, the Press and Sunday Star Times newspapers, took a big hit, being written down to A$137.8 million from A$733.5 million, while kiwi goodwill of A$5.9 million was wiped out. By contrast, online auction Trade Me's goodwill was bumped up in value to A$574 million from A$559.3 million, even though Fairfax sold down its stake.
The Australian regional media mastheads, which account for about a third of Fairfax's earnings, were written down by A$607 million to A$483.5 million, while A$400 million of that unit's goodwill was slashed to just A$4.5 million. Across the whole group, titles, mastheads, radio licences and trade names were written down by A$1.98 billion and goodwill by A$790 million.
The plunging value of print assets comes amid predictions of more tough times for newspaper advertising. PwC last month estimated New Zealand's newspaper ad spend will fall to $483 million by 2016 from $840 million in 2007.
Despite the loss, the board declared a 1 Australian cent dividend, down from 1.5 cents a year earlier. That takes the full-year pay-out to 3 cents, unchanged from 2011.
The shares fell 5.3 per cent to 53 Australian cents on the ASX, and have shed 20 per cent this year. That values the group at A$1.35 billion by market capitalisation, almost half analysts' consensus A$2.48 billion enterprise valuation.
In June, Fairfax signalled a radical overhaul, shutting down printing operations and laying off staff as it looks to focus its efforts on making its digital businesses profitable. The company flagged restructuring costs rose to A$199.5 million in the 2012 from A$36.8 million a year earlier.
"These results reflect a challenging trading environment," chief executive Greg Hywood said in a statement. "We continue to drive significant change through the business, consistent with our strategy, and we are responding to a stressed economic environment."
The New Zealand media assets saw advertising fall 6.8 per cent and circulation 5.6 per cent, for a 5.8 per cent fall in sales to $443.2 million. Ebitda dropped 9.9 per cent to $78.1 million. Trade Me boosted sales 18 per cent to $146.2 million for an 11 per cent increase in earnings to $110.3 million, according to Fairfax's accounts.
Fairfax's metropolitan unit, which includes the Sydney Morning Herald and Melbourne Age papers, saw editda fall by a third to A$62.8 million as advertising sales dropped 17 per cent and circulation declined 3.4 per cent, reducing total revenue 13 per cent to A$565.2 million.
The Australian Financial Review advertising fell 12 per cent and gross sales 9.3 per cent to A$130 million for a 50 per cent slump in ebitda to A$6 million.
The regional media unit saw advertising fall 2.2 per cent and circulation 1.1 per cent as gross sales declined 2.4 per cent to A$573.8 million, and ebitda dropped 9 per cent to A$159.1 million.
The broadcasting business reported a 48 per cent decline in ebitda to A$13.9 million on a 13 per cent fall in sales to A$97.3 million