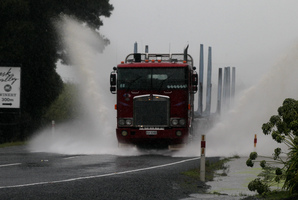 ANZ's Truckometer has dropped for the second month in a row, possibly indicating some loss of economic momentum in the new year.
The Truckometer is based on traffic flows on carefully selected roads which have provided a good pointer to economic activity, measured by gross domestic product, six months later.
Among leading indicators that counts as long-distance vision.
It fell 1 per cent cent last month, following a 1.9 per cent fall in June and a 4 per cent jump in May.
"On a quarterly basis the Truckometer sends optimistic signals about momentum in the last three months of this year but the early signs of momentum at the start of 2013 are potentially less positive," said ANZ economist Sharon Zollner, who devised it. Looking just at truck movements, which are a better indicator of activity here and now, the trend looked encouragingly robust, she said.
"There is certainly no evidence that [rising] trend has been broken. It's not a spectacular trend.
The economy has been doing it tough since the recession and that is reflected in a weaker trend in the heavy traffic too, but the weakness in the light traffic at the end of last year would have suggested the heavy traffic should be falling off by now and the fact that it is not is encouraging."
By contrast, she said, a 2.1 per cent drop in car movements, historically an indicator of economic activity six months ahead, was not particularly encouraging.