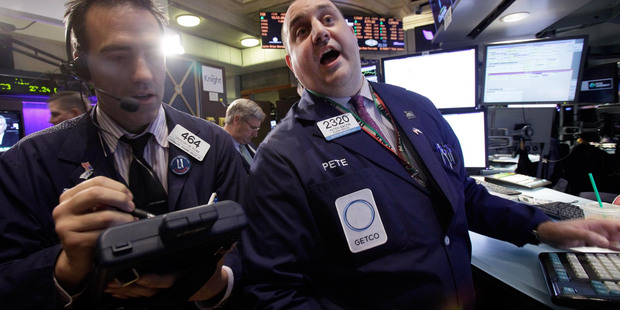 Stocks fell on both sides of the Atlantic after data showing that the Japanese economy is expanding at a slower rate than expected highlighted the global struggle.
Investors remain hopeful that central banks in the US, China, Europe and Japan will act to revive their respective economies but are also increasingly worried about the signs of trouble, ranging from a slowing in growth to contraction around the globe.
Japan's gross domestic product increased an annualised 1.4 per cent in the three months through June, down from 5.5 per cent the previous quarter, government data showed. Unadjusted for prices, GDP contracted at a 0.6 per cent annual pace.
A separate report showed Greece's economy shrank by 6.2 per cent on an annual basis in the quarter. While that was better than anticipated, it didn't help a day before a report is expected to show that GDP in the euro zone contracted 0.4 per cent in the second quarter from a year earlier.
"There is a tug-of-war in global markets between stimulus expectations and bad economic fundamentals," Ayako Sera, a market strategist at Sumitomo Mitsui Trust Bank, told Bloomberg News. "The GDP was much lower than expected, fuelling negative sentiment. That's also driving expectations the Bank of Japan may add monetary easing."
There's hope that Germany, Europe's largest economy, is still expanding, albeit at a slower rate. A report tomorrow will probably show that Germany's GDP slowed to 0.2 per cent in the second quarter from 0.5 per cent in the first, according to a Bloomberg survey.
In late afternoon trading in New York, the Dow Jones Industrial Average declined 0.45 per cent, the Standard & Poor's 500 Index fell 0.43 per cent and the Nasdaq Composite Index shed 0.34 per cent.
Kansas City Federal Reserve President Esther George, who will be a voter on the Federal Reserve's Federal Open Market Committee next year, expressed doubt that further US central bank action will create jobs for the unemployed.
"At this point we have a tremendously accommodative policy for the economy to begin the process of recovery," George said in introductory remarks at a conference. "Will monetary policy put people back to work at this point? That's not clear."
Meanwhile, Google said it will slash about 4,000 jobs and close a third of the facilities at its Motorola Mobility unit. Google shares rose more than 2 per cent.
In Europe, the Stoxx 600 Index ended the day with a 0.4 per cent drop from the previous session. The UK's FTSE 100 and France's CAC 40 both fell 0.3 per cent, while Germany's DAX slid 0.5 per cent.
There was a bright spot as Italy's debt auction met solid demand - and its target - as the nation sold 8 billion euros worth of one-year bills.
The Rome-based Treasury sold the bills at 2.767 per cent, up from 2.697 per cent at the last sale of similar-maturity debt on July 12,, according to Bloomberg. Investors bid 1.69 times the amount of bills offered, up from 1.55 times last month.