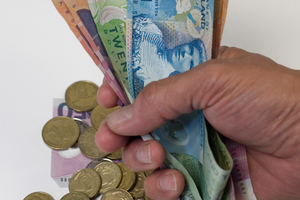 Wages data for the June quarter show scant sign of any acceleration in wage inflation.
Statistics New Zealand's labour cost index recorded an increase of 0.5 per cent in private sector salary and ordinary time wage rates in the quarter - in line with the average quarterly increase over the past two years - making it 2.1 per cent for the year, unchanged from the March quarter.
For the public sector the increase was 0.3 per cent for the quarter and 1.6 per cent for the year.
Among the 54 per cent of pay rates in the private sector which increased in the past year, the average rise was 4.1 per cent, the highest since December 2009, but the median increase was 3 per cent, a rate at which it has flatlined for the past two years.
In the public sector the average rise, for those who got one, was 2.9 per cent and the median 2.5 per cent, continuing a downward trend over the past year.
For construction workers in Canterbury the average pay rise, compared with a year ago, was 6.9 per cent, on top of a 5.5 per cent rise in the previous year, compared with 3.9 per cent and 3.5 per cent the year before in the rest of the country.
Wage increases in the Canterbury construction industry were to be expected, ASB economist Jane Turner said, but there was little evidence this was spilling over to the construction industry throughout the rest of the country.
"As the recovery gains traction, skill shortages are likely to emerge in a number of areas and drive wage inflation higher over 2013. However, for the time being, the gradual pace of labour market recovery indicates wage inflation pressures will remain subdued over 2012."
Meanwhile the quarterly employment survey, also released yesterday, showed growth in households' collective income from wages and salaries increasing at the fastest pace since the recession.
Total gross weekly earnings at $1.4 billion, or $73 billion annualised, were up 5.2 per cent on a year earlier, the strongest increase since September 2008. It reflects more people employed, working slightly longer hours and at higher rates of pay.
The number of people employed, on a full-time equivalent basis where part-timers are counted as half a full-time worker, rose 2 per cent in the year ended June. That included a 4.7 per cent increase in construction workers to 91,200, back where it was in September 2009.
Average paid hours per week rose 0.3 per cent and average hourly earnings 2.8 per cent