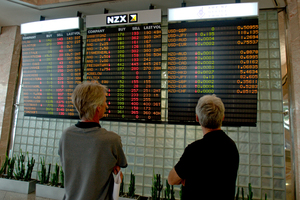 The New Zealand dollar gained in local trading yesterday ahead of US jobs figures expected to show the unemployment rate is unchanged in the world's biggest economy, and as Spain's Government prepared to make a public announcement on how it's faring.
The kiwi rose to US81.29c at 5pm from US80.88c at 8am and US80.91c on Thursday. The trade-weighted index advanced to 73.44 from 73.
The dollar got a small boost from Standard & Poor's reaffirming New Zealand's AA credit rating, saying the Government's strong fiscal position is offsetting the nation's high level of external debt.
The kiwi climbed to euro66.76c from euro66.02c at 5pm on Thursday, and gained to 52.39p from 52.05p on Thursday. It increased to A77.59c from A77.14c on Thursday, and was little changed at 63.56 from 63.48.