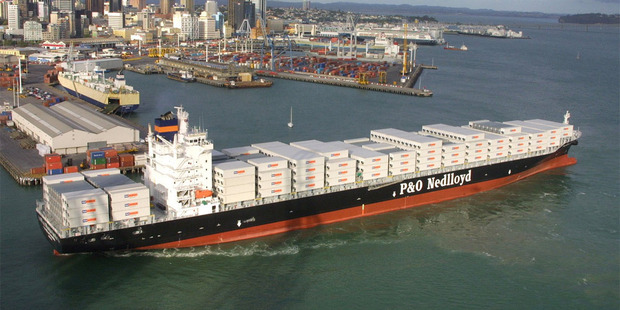 The value of New Zealand's exported goods has fallen in the second quarter of 2012, led by a drop in dairy export revenue, according to figures out today.
Statistics New Zealand data for the June quarter showed the value of total exported goods fell 1.6 per cent to $11.3 billion, when compared to the previous quarter.
It was less of a drop than for March quarter, which saw export value slump 5.9 per cent.
The second quarter decrease was led by a fall in the value of milk powder, butter, and cheese, said industry and labour statistics manager Neil Kelly.
Dairy exports declined 5.7 per cent in value, when seasonally adjusted.
"Dairy products typically have the largest influence on total exports, and the June 2012 quarter is no exception," Kelly said.
The export trend has fallen for the last three quarters, following a record high in the September 2011 quarter.
Imported goods also dropped in value, down 1.9 per cent for the second quarter.
Statistics NZ said the value of imported goods had been steadily increasing since a low in the September 2009 quarter.
The trade balance for the June 2012 quarter was a deficit of $664 million, equal to 5.9 per cent of exports. This follows a $708 million deficit for the March 2012 quarter.
ASB economist Jane Turner said the Quarterly Trade Balance deficit largely reflected a decline in global export commodity prices.
"Over 2011, offshore prices for meat and dairy were elevated, but have since corrected as global supply of these commodities has increased," she said.
"The recent drought in the US, and its impact on crops and increase in feed prices, suggests there will likely to be a recovery in meat and dairy prices over 2013."
Turner said the current slowdown in growth in our main trading partners was the key concern, with the situation in Europe the biggest risk.
"For the time being, it appears that demand has held up for our exports, although the very high level of the NZD is likely to be eroding competitiveness in some markets.
"The export sector will continue to contribute less to growth over 2012, although there is some scope for improvement in 2013."
Looking at figures for the month of June, things were more positive.
A trade balance of $331 million was much stronger than expected, Turner said.
Compared to June last year, export values increased by $244 million and imports increased by $114 million last month.
The market expected a trade surplus of only $134 million, Turner said.
Exports surged across a broad range of commodities in June, including a 27 per cent increase in dairy export volumes, a 9 per cent increase in meat export volumes, and a 24 per cent increase forestry export volumes.
- HERALD ONLINE