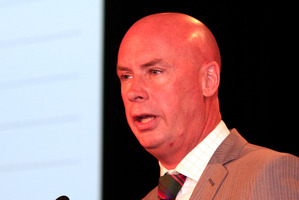 Solid Energy boss Don Elder says he's still willing to talk at anti-privatisation rallies after his offer to address a protest was spurned.
He said organisers at a Christchurch march that he tailed to a rally told him that he was not welcome on stage to share his views on state-owned enterprises and that he might not like getting jeered.
Elder, who has proven to be thick skinned - at one meeting he barely flinched during an environmental group's custard pie attack - said being booed would not bother him.
"I think people know me in Christchurch, they know the things I'm involved in and I think they'd respect me enough to give me a hearing."
Solid Energy is in line for partial listing as part of the mixed ownership process due to start with the sale of almost half of Mighty River Power in September.
Elder said he was aware the march would pass a Riccarton Rd motel where he was staying while his earthquake damaged home is repaired and decided to track it to a rally point at a nearby park.
"I'd thought about this a couple of days in advance and I'm interested in seeing what goes on at these."
During his time as Solid's chief executive he'd warned people rather than "go home and have a glass of chardonnay" they should meet protests head-on.
"You need to make a decision that you want to stand up and be counted at these things and say what you think - I said I better apply this to myself [and] followed them to where they were gathering just down the road."
Along the way he was invited five times to sign a petition opposing the process but declined the offers.
At the gathering he offered to speak for two minutes on how the part sale of Solid could benefit the country but was disappointed to be knocked back.
"It's not often you get the CEO of a state-owned enterprise showing up at an event like this."
He said he would have told the crowd at the meeting last weekend that Solid Energy had grown rapidly but needed access to more capital to grow.
"The current Government is not in a position to give us more capital."
Elder said Solid's strategy of the past seven or eight years meant the company was now capital constrained.