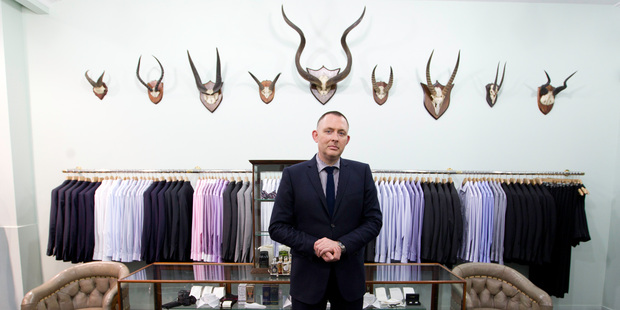 Upmarket Auckland tailor Crane Brothers is setting up its first international showroom in Sydney next month in the city's central business district.
With the new Westfield shopping centre in Pitt Street there has been a real return of prosperity to Sydney's CBD, said Crane Brothers' founder, Murray Crane.
"350 George Street is smack bang in the middle of the CBD, by St Martin's Place, it's the centre of banking in Australia," he said.
The 14-year-old New Zealand business, which has stores in Auckland and Wellington, has been looking for premises in Sydney after spending the last 12 months doing trunk shows - doing trunk shows - where clients come to a hotel suite for suit fittings with their tailor.
"The last year has proven to us that the demand is there," Crane said.
"We have done our market research, we've put our toe in the water.
"If we can maintain the same level of business that we have experienced there in the last 12 months, then the business model is sustainable."
While the showroom will only be open by appointment, clients will be able to see the tailor's complete range.
"It's very much about our clients who require made to measure or by appointment service," Crane said.
He expects to have a permanent member of staff working there in the next six months. His general manager, Karl Clausen, who has many peers and contacts in Sydney, has led the expansion, he said.
"Sydney is becoming one of the financial hubs for Asia now," Crane said. "New Zealand professionals used to go to London, now they go to Sydney.
"It is such a vibrant city, you always get the feeling that people are doing very well. There's a big critical mass of people, who are very professional."
The Sydney showroom will be used to service Melbourne clients who come to Sydney frequently on business, but a similar style Melbourne showroom should follow in the next 18 months to two years, Crane said.
"We probably have 250 good clients based in Sydney, many of whom were good clients in Auckland," he said.
They have become ambassadors for the brand.
Each Crane Brothers client would spend up to $5000 to $10,000 every year to 18 months.
A made to measure suit at Crane Brothers in Sydney costs about A$1100.
Crane's European style suits, which he is having made in Italy, will suit the Australian clients and retail at 30 per cent above the price of the traditional suits, Crane said.
These are less structured, lighter suits for less formal occasions.
Crane said the tailoring business had weathered the global financial crisis relatively well by keeping in close touch with clients.
Last year it experienced double digit growth.
Crane said the company, which has 20 staff, has an online service which has helped with the business's profile.