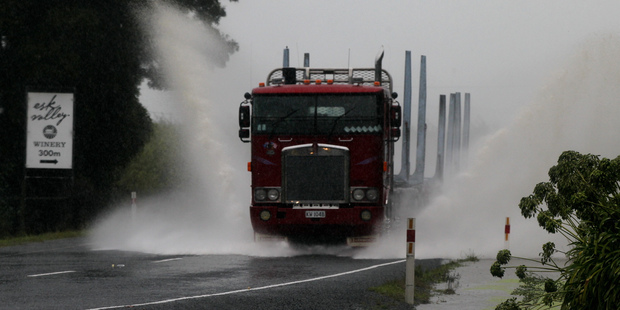 ANZ's Truckometer indicator is suggesting the economy will regain momentum by the end of the year after a mid-year dip.
The Truckometer is based on traffic flows on carefully selected roads which have provided a good pointer to economic activity, measured by gross domestic product, six months later.
Among leading indicators that counts as long-distance vision.
It fell 1.9 per cent last month, seasonally adjusted, which means it held on to half of its particularly sharp rise in May.
ANZ economist Sharon Zollner, who devised the indicator, said it suggested a weak GDP growth out-turn was in the offing for the June quarter, with some weakness persisting into the September quarter before a rebound in the December quarter.
"If you look through that hole it is a continuation of the fairly sluggish trend we have seen in the last couple of years, in line with the fairly sluggish trend in GDP growth," Zollner said.
"It's certainly not suggesting an economy that is ripping away, but it is good news compared with how it looked a couple of months ago."
May's jump in traffic had been particularly strong for trucks, which Zollner took to reflect an extremely strong end to the dairy season - a view supported, she believes, by the retractions of that increase in heavy traffic last month.
But May's strong rise in car traffic was largely maintained last month.
As it is light vehicle traffic which largely provides the overall indicator's six-month lead on GDP, that augurs well for late 2012, just as its weakness six months ago implied a loss of underlying momentum in the economy now.
"There is a lot going on in the New Zealand economy at present," Zollner said.
"Prudent debt repayment is going head-to-head with a broadening housing market upswing. An exceptional growing season has now come to an end, the global outlook is worsening, commodity prices are volatile, an earthquake rebuild is pending."
It made for mixed messages from the economic data, including traffic flows.
"But it is certainly encouraging that the downward trend in the Truckometer evident at the end of last year now looks more like a pothole than the start of a slippery slope."
Meanwhile, the ANZ-Roy Morgan consumer confidence survey has recovered most of last month's drop.
Optimists outnumber pessimists by a net 10.5 per cent compared with 5.8 per cent in June. Auckland is the most upbeat region.
"Consumer confidence has been bouncing along a flat trend for over a year now, at a level that shows consumers remain wary," Zollner said.
On balance consumers still feel worse off than they were a year ago, by a net 9 per cent, little changed from June's 10 per cent.
But more consider it a good time to buy a major household item - a net 32 per cent compared with 20 per cent last month.
A net 20 per cent expect to be better off financially in a year's time, the same as in the June survey.
Their view of the outlook for the economy as a whole is less negative than a month ago, a net 10 per cent expecting bad times compared with a net 19 per cent pessimistic last month.
Zollner said the bank's composite indicator which draws on responses to both its monthly business and consumer sentiment surveys was a better guide to prospects than either survey alone.
"This composite indicator is flagging 2.4 per cent growth by the end of the year," Zollner said.
"Subsequent falls in readings from the Business Outlook survey suggest it is likely to fall over coming months, however, unless we see a decent climb in consumer confidence from here."