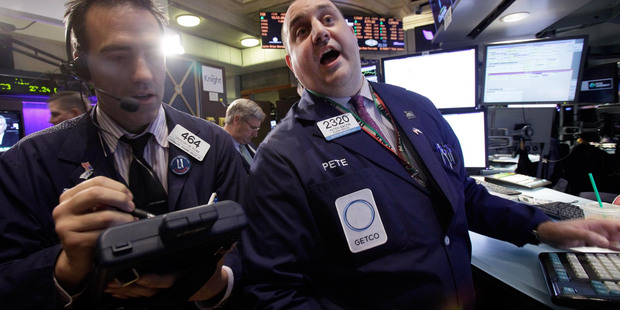 Wall Street recovered from yesterday's declines, helped by data showing US home prices rose for a third straight month in April, underpinning hopes the industry is finally showing more convincing signs of recovery.
The S&P/Case Shiller composite index of 20 metropolitan areas rose 0.7 per cent on a seasonally adjusted basis, surpassing expectations for a 0.4 per cent increase.
"The housing recovery in this cycle has been painfully slow to develop, but it is unmistakably here," Chris Low, chief economist at FTN Financial in New York, told Reuters.
However, keeping a lid on optimism was Conference Board data showing American consumer confidence dropped to its lowest level in five months in June.
In late afternoon trading in New York, the Dow Jones Industrial Average rose 0.51 per cent, the Standard & Poor's 500 Index gained 0.66 per cent, while the Nasdaq Composite Index advanced 0.76 per cent.
Some believe these gains will be short-lived.
"This is a classic exhaustion rebound. The selling intensity was pretty high yesterday, and technically, we were due for a short-term rebound," James Dailey, portfolio manager of TEAM Asset Strategy Fund in Harrisburg, Pennsylvania, told Reuters. "But these gains are really unsustainable. I think we have entered the bear market cycle already, and these [gains] could disappear any minute."
Most eyes are on the two-day summit of European Union leaders starting on June 28 to see if any decisive action towards solving the ongoing euro-zone debt crisis will finally be taken.
"We're caught in this limbo," Brian Jacobsen, chief portfolio strategist at Wells Fargo Advantage Funds in Menomonee Falls, Wisconsin, told Bloomberg News. "People are waiting to see what comes out of the European Union summit this week. We're getting some signs of very tepid pick-up in economic activity. It's really not something that's going to move the market significantly one way or the other."
Ahead of this week's meeting, European Council President Herman Van Rompuy released a seven-page report on closer fiscal and banking union envisaging a euro zone treasury that would issue common debt in the medium term.
That's not what Germany's Angela Merkel has in mind.
"I don't see total debt liability as long as I live," Merkel said at a meeting of lawmakers from her Free Democratic coalition partners in Berlin, Reuters reported, citing people who attended the closed-door session.
Meanwhile, Spain struggled to garner interest at its debt auction today.
It sold three-month bills at an average 2.362 per cent, compared with 0.846 per cent at the last auction on May 22, and six-month bills at an average rate of 3.237 per cent, compared with 1.737 per cent last month. Demand for the three-month securities was 2.6 times the amount sold, compared with 3.95 times in May, while the bid-to-cover ratio for the six-month bills was 2.82 compared with 4.3, according to Bloomberg.
Shares of News Corp jumped more than 8 per cent after the company said it's considering splitting into two publicly held corporations.
Rupert Murdoch, News Corp's chairman and chief executive officer, is overseeing internal discussions on whether to split publishing from the New York-based company's entertainment business, Bloomberg reported, citing two people with knowledge of the matter, who asked not to be identified because a decision isn't final.