Design student keen to put skills to work after winning transtasman award.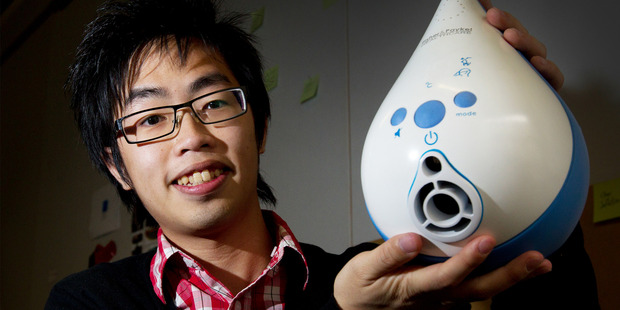 When it comes to innovation, nature often provides the best template. So when Australasia's finest product design student, Mark Wu, was asked to provide new ideas about humidifiers used for premature babies, he started thinking about camels' noses.
"I'm inspired by the camel's nasal structure," says Wu. "Camels need to save water in the desert conditions, so their nasal structure has the ability to capture some of the exhaled water vapour."
Premature babies need a humidifier because "ventilation gas is pretty dry oxygen, so they need ... to add water vapour to the dry air," he explains. "So I thought - hmmm, why don't I reuse patients' exhaled air, the water vapour in the air, and use that to drive this humidifier. In this way I really simplified the whole system because I use the patient's [air], rather than generating new water vapour.
"That was the breakthrough."
It was an innovation that saw him named joint design graduate of the year by the Design Institute of Australia (measuring students from design schools on both sides of the ditch).
This column usually focuses on small, successful companies - but Wu is worthy of a profile for his design work for Fisher & Paykel Healthcare and the Ray Avery development agency, Medicine Mondiale.
"Having the connection with Ray Avery is so important because he has the experience and he can help me to commercialise [my work]," says Wu.
The Taiwan-born Kiwi, who moved here to live with relatives when he was 16, says he is committed to finding work where he can develop "the idea of how Third World constraints drive design innovation for developing countries".
"[Design] is not just about the beauty, the form - it can be really practical and pragmatic. It can empower people, help people," the 22-year-old believes.
"Throughout my life, I've always wanted to help people, to contribute to society and product design gives me the skills, wisdom and knowledge to do that."
Wu acknowledges that altruism sometimes seems in short supply in the commercial sector but "I'm hoping to find a company with the same values [as me] - it is quite difficult". The beauty of the work he and two AUT colleagues did for Fisher & Paykel was that it could potentially replace a system that requires up to 30 steps to assemble. New nurses in particular, Wu reports, were intimidated by the number of components and the complexity of the task.
By using exhaled air to drive the humidifier, the students managed to get it down to four simple steps.
It is as yet unclear whether F&P, which awarded Wu a summer internship as part of a programme to develop the country's "best technical minds", will commercialise his design.
But senior industrial designer Jason Klenner describes Wu as "a talented young designer with a bright future".
For Medicine Mondiale, which designs and commercialises innovative and affordable medical products and technology, he worked on a "life raft" incubator for premature babies in developing countries as part of his master's degree in product design.
"The idea is to design a low-cost, highly reliable humidification system for the incubator," he explains. Wu experimented on airflow and water absorption using a range of materials.
In the end, he chose a porous ceramic because of its "ability to absorb water and filter bacteria - it's the perfect media for this humidifier". Creating a prototype was simple because AUT owns a machine that can "print" 3D objects.
"You draw it up on the computer and you send that file to the printer and it prints layer by layer," he says. "The cartridge is filled with ceramic powders and the nozzle of the printer consists of glues and these glues glue the powder together layer by layer."
But the printer wasn't cost-effective for mass production, so Wu instead set upon the idea of using ceramic tiles to absorb water in order to humidify the air sufficiently.
A fan circulates the air through a ceramic chamber to create humid warm air for baby. "I created a concept for them and at the moment they're still developing it," he says. "The beauty is it has the possibility to be manufactured locally [in Third World countries], which provides job opportunities."
Wu is now in his final year of studies and is working on a resuscitator for new-born babies with breathing problems.
"If this resuscitation project takes off, it will be good if it can be commercialised," he says.