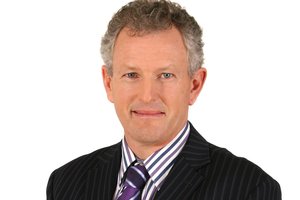 Bruce McLachlan has moved from the Goliath to the David of the banking industry but says he isn't worried about having far fewer zeros on the balance sheet.
The former Westpac executive yesterday stepped into the chief executive role at The Co-operative Bank, formerly known as PSIS.
"It is a very, very small bank - it is less than half of a per cent [of the market] in terms of assets," McLachlan said.
"But they have done a tremendous job in the last year in repositioning and getting a banking licence - without that I would never have been interested in the job."
McLachlan said he was attracted to the role because of the bank's point of difference - the fact that its customers are also its owners.
"I was very excited about this opportunity because I really believe in its point of difference."
Despite it being a fraction of the size of Westpac, McLachlan believes The Co-operative can still compete with the bigger banks.
"When New Zealanders know and understand about co-operatives it [the bank] will emerge as a genuine choice in the market place."
But he is under no illusions about its size or where its strength lies.
"It is always going to be a niche bank," he said.
"This is a retail bank. They have moved into small business banking but it is an extension of personal banking."
McLachlan said more branches was an option for increasing its retail footprint but his focus for now would be on realising the full potential of the existing 30 branches, seven of which are in Auckland.
"You could spend a huge amount of money [opening branches]. My last job at Westpac was opening 10 branches in Auckland. But it's not the basis on which I have come into this job."
McLachlan said he would also focus on going back to banking basics.
"That has a huge impact on performance really."
He is also keen to engage more with the bank's owners.
BRUCE McLACHLAN
* 49 years old.
* Married with 3 adult children.
* Bachelor of Commerce and Administration from Victoria University, Wellington.
* 30 years in financial services.
* Most recent role 10 plus years at Westpac New Zealand.
* Interests include sport, boating, gardening and hiking.
ONE OFF COSTS BEHIND DROP
The Co-operative Bank, formerly known as PSIS, says the one-off costs of becoming a registered bank and rebranding are behind a drop in profits.
The business converted to a bank in October 2011 and yesterday reported a pre-tax underlying profit of $7.2 million for the year to March 31, down from $7.4 million in the previous year.
Chairman Steven Fyfe said he was pleased with the result despite the drop in profits. "Although the bank's pre-tax operating profit of $6.6 million is down on the previous year, we're pleased with the result, as the reduction in profit is primarily due to the one-off costs associated with bank registration and rebranding as the Co-operative Bank."
The bank's deposits increased by $51 million to $1.21 billion and its lending book grew $43 million to $1.21 billion.