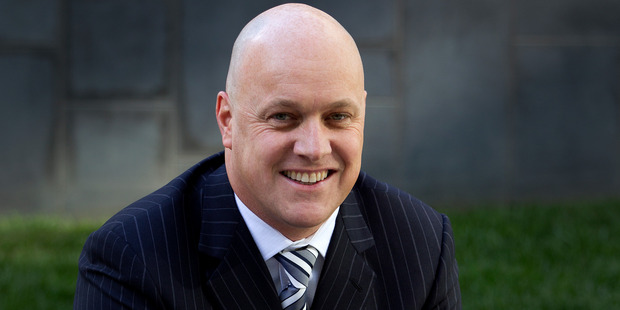 Air New Zealand's new boss, Christopher Luxon, says he is his own man.
The aviation newcomer will step into the shoes of rock-star chief executive Rob Fyfe at the end of the year. Although he says they share a similar approach to people and the business, he insisted he would be himself in how he approached the role.
"The great thing about Air New Zealand is that we've had the right leaders for the right time," the 41-year old Luxon said.
He has run the airline's international operations for the past year after a global career in consumer goods giant Unilever. The announcement of his top role at Air New Zealand comes as fallout from near-record-high fuel prices and soft demand will hit profits for the current financial year.
The Christchurch-born father of two is not well known among market sources but was a "logical choice", one said.
Air New Zealand has just cut 440 jobs in a cost-saving drive to keep it profitable while other airlines are plunging into the red.
At a media briefing yesterday Fyfe talked about the job cuts but said no more were in the pipeline.
Luxon said: 'You just can't cost-cut your way to growth and profit. For us it's about keeping our costs under control and getting that engine firing and generating revenue."
Although the airline's board looked around the world for a replacement for Fyfe, it had favoured an internal appointment.
Chairman John Palmer said it was a possibility Luxon would get the role when he was appointed to the international airline job last May.
"Clearly he had an opportunity to become CEO but there was no guarantee that would happen," Palmer said.
Luxon said that during the past year a new 10-point strategy called "The Compass" was developed for the airline's international business. This covered improving customer service, how it was executed in some markets and costs.
"We're quietly confident," he said. "We've spent a lot of time retooling our businesses in Japan, China and the UK and the US. We're making sure we've got the right sales and distribution channels and the right leadership in place."
He said Air New Zealand was aiming at improvements in profitability of about $110 million by 2015.
Corporate sales teams in the US and Britain had been bolstered and were now working closely together. Some routes in Asia had been modified, others were under review although he would not detail plans for any new ones.
Although a relative aviation newbie, he said the sales and distribution skills he developed with Unilever set him up well for his new role.
"What I've learned over the last 12 months is that business principles are incredibly transferable to this industry."
Airlines around the world have been hit with high fuel bills for most of the past 12 months, a sharp drop in demand in Europe and a levelling-out in Asia. In Australia Qantas faces its first bottom-line loss in two decades due mainly to structural issues in the airline and problems making money on its long-haul routes.
Luxon said the airline industry was "addictive".
"For me, what I've learned over the last 12 months is that it's a highly addictive industry and maybe it's an insane way to make money."
Shares in Air New Zealand rose 0.6 per cent yesterday to close at 87c. Shares have fallen by 21 per cent in the past year.
Luxon was recruited by Unilever while studying for a master's in commerce at the University of Canterbury. His career with the company culminated as president and chief executive of Unilever Canada in 2008 where he was responsible for leading Unilever's US$1.4 billion business and 1500 employees.
He was born in Christchurch and his father was a sales executive for Johnson & Johnson and his mother a psychotherapist and counsellor.
Speaking last week before the appointment was made, Fyfe had some advice for his successor.
"Be your own man," Fyfe said. "I've got my own personality I've projected that I haven't been afraid to be myself and I would say that to a successor.
"Don't be afraid to share who you are to your employees, your customers and the public of New Zealand.
"If you do that people will respect you for that."
While Luxon says he and Fyfe share a similar philosophy, he says he has no plans to strip off to paint his body - as Fyfe did for a commercial.
"I don't think that's what you want to see forced on the world."
CHRISTOPHER LUXON
* Age 41.
* Married to Amanda, two children William, 12, and Olivia, 10.
* 18-year career at Unilever in NZ, Australia, Britain, US and Canada.
* Master's in commerce from Canterbury University.
* Base salary $1.25 million plus bonuses to be disclosed.