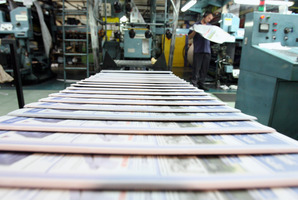 Pressure is building on Fairfax and APN News & Media to find new ways to make money from media assets as advertisers move from traditional media on to the internet.
Australasian newspapers have not suffered the radical slump in readership faced by American counterparts. But newspapers' revenue and advertising market share is falling.
Newspaper Publishers Association chief executive Tim Pankhurst said evaluations on newspapers sometimes missed that they dominated the online news space. Dominant sites Stuff and nzherald.co.nz are owned by Fairfax and APN respectively.
Both firms recently announced initiatives to stave off the immediate challenges facing the industry.
The media sector is at a watershed moment and, as companies adjust to new business plans, changes in ownership appear likely.
Fairfax has told staff it plans to publish the Sunday Star-Times in three regional editions for northern, central, and southern New Zealand from July.
The company declined to discuss plans that followed a shakeup for the paper at the start of the year. The move would make the Sunday Star-Times less reliant on the crowded national advertising market, where it struggles to compete.
APN News & Media, in the meantime, is looking to change its biggest title - the weekday Herald - into a smaller "compact" format that it says will be more attractive to readers.
Both New Zealand initiatives are intended to tweak the frontline product. The changes are underpinned by pressure from their respective head offices to turn around low share prices and improve value to shareholders.
Both are hardening the focus for a new business plan as print media declines, but they are still dependent on traditional media to bring in revenue. Investment analysts have warmed to new media amid online's growing share of advertising income while cooling to traditional media.
On May 2, APN chief executive Brett Chenoweth announced that Deutsche Bank was undertaking a strategic review of the company's New Zealand media assets, which include the Herald, provincial newspapers, and magazines such as NZ Woman's Weekly and The Listener. APN also owns 50 per cent of the The Radio Network, which owns half of the country's radio stations.
He said yesterday that with the changes at Fairfax and Australian newspaper publisher News Limited - which has also foreshadowed job cuts - it was important APN got the review right.
APN had fielded offers to buy and sell New Zealand media assets, and the review would allow it to consider all options, including a partial float.
He said he was encouraged by the Fairfax float of one third of Trade Me in December, which netted Fairfax $363 million. That showed there was support for New Zealand brands and that there would be interest in New Zealand media assets.
Trade Me shares were floated at $2.70 and were being traded yesterday at $3.68 - suggesting the asset may have been undervalued by Fairfax, and on that basis it left $131 million on the table. Fairfax's remaining 66 per cent stake accounts for more than 50 per cent of the company's value, according to business news service Bloomberg.
Trade Me provides black ink for Fairfax, which this week forecast a revenue cut of 8 per cent for the year to June 30. Amid moves to outsource sub-editing for NSW regional papers to New Zealand, pressure is coming for a change of tack at the company chaired by Roger Corbett.
Australia's richest woman, Gina Rinehart, is reportedly considering her next move after failing to get seats on the board.
She is active in the business world and there is a widespread opinion that her role on the board would influence editorial issues at Fairfax. Corbett said that would not happen, but as the price of assets has fallen it is easier for individuals to make investments that reflect their view of the world, an approach arguably more common in the early days of newspapers.
FAIRFAX MEDIA
* Australia's richest woman, Gina Rinehart, is demanding two places on the board to improve its performance and profitability.
* The mining magnate is the biggest single investor, owning 13 per cent of Fairfax.
* Second-half revenue to June 30 would be 8 per cent below the same period last year.
* Fairfax plans to turn Sunday Star-Times into three regional editions to make it less reliant on national advertising.
APN NEWS & MEDIA
* Ireland's richest man, Denis O'Brien, with a 22 per cent stake, has a greater influence on the company with the exit of board members associated with his rival, Sir Anthony O'Reilly.
* On May 2, APN announced it had hired Deutsche Bank to conduct a strategic review of its New Zealand media assets.
* Separately, APN has moved to redesign the weekday Herald, with plans to turn it into a smaller compact format the same way it has done for its regional titles.