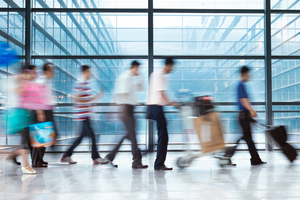 The introduction of direct flights from the Chinese mainland has propelled the number of visitors from there to exceed numbers from the United States through Auckland.
Latest Auckland Airport figures showed a 30 per cent increase in the number of Chinese visitors in the year to April, coinciding with the arrival of China Southern Airlines last year. The rolling 12-month average arrival figures put Chinese ahead of the US. They also outspent Americans last year for the first time on record.
The airport's general manager of aeronautical commercial Glenn Wedlock said China Southern had been important in building the increasingly lucrative market.
"It's the fastest moving market we have. We're seeing a greater number of free and independent travellers starting to come through."
The airline moved from flying here five times a week to daily soon after beginning flights from its Guangzhou hub on the Pearl River Delta last April.
Throughout the past year the number of tourists from the hinterland outside the main cities of Guangzhou, Shanghai and Beijing had also rocketed, said Wedlock.
China Southern spent about $10 million promoting New Zealand in China last year and tourism and trade missions have focused efforts there during the past year. Auckland Airport used Chinese movie actress Dong Xuan to promote the country. The campaign reached an estimated 10 million Chinese.
A new deal allows a trebling in the number of daily flights between New Zealand and China although China Southern says it has no immediate plans to increase services.
China Southern last week began direct services to London via Guangzhou three times a week.
Its president Si Xianmin said in Beijing yesterday the airline would increase connecting flights to London to daily in the Northern Hemisphere winter and this would give even better connections for New Zealanders.
China Southern is Asia's biggest airline by passenger numbers and is working with government authorities to allow a visa waiver period of up to 72 hours in Guangzhou to make it easier for New Zealanders to visit the city.
Air New Zealand - the other airline flying directly to mainland China - began flying three times a week to Shanghai in 2006 and twice a week to Beijing in 2008. From the end of the month it will stop flying to Beijing and consolidate services into Shanghai five times a week. It plans daily flights from early next year.