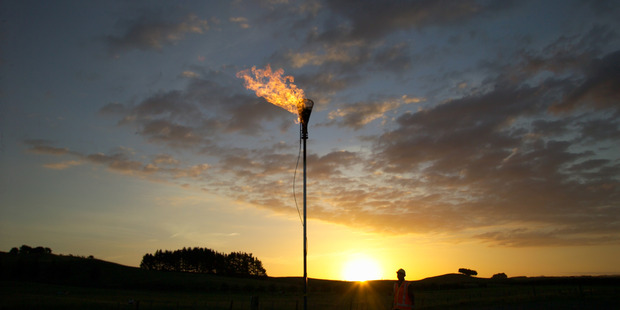 Solid Energy says it has discovered coal seam gas reserves in Taranaki with the energy potential to provide power for up to 370,000 homes for the next 45 years.
The state-owned enterprise said an independent appraisal by a United States firm of its acreage west of Taumarunui showed it had about 900 petajoules of methane gas, the energy potential to supply a 400MW gas power plant beyond the middle of this century.
It acknowledges it could face opposition from environmentalists if the methane gas is extracted using hydraulic fracturing - or fracking - a technique now under investigation by the Parliamentary Commissioner for the Environment. Solid Energy used fracking at a trial plant near Huntly which it says was done safely.
Solid Energy's general manager of gas developments, Steven Pearce, said the new study had found a four-fold increase in gas resources which was extremely encouraging.
Dallas-based Netherland, Sewell and Associates had found that based on knowledge of similar field developments, the resources had a "reasonable chance" of being commercial.
The field could produce about a quarter of what was extracted from the world-scale Maui project over 30 years and be crucial for bolstering New Zealand's known gas reserves which have dwindled to about 10 years.
Pearce said Solid Energy was refocusing its coal seam gas development work to Taranaki after successfully proving the technology at its Huntly coal seam gas (CSG) demonstration plant in the Waikato.
The gas in Taranaki was in multiple thin coal seams, which would require some "innovative technical solutions".
The company is applying for a five-year extension of its Taranaki permit to allow the project to move to an appraisal-discovery phase.
Unlike traditional gas fields where just one well is needed, CSG extraction generally requires numerous wells dotted above the seam, adding significantly to the cost.
Pearce said he had no estimate of how much would be required to commercially develop the field which, although in rugged country, was close to New Zealand's two main gas transmission pipelines.
"It's early stage," he said.
"We've proven the gas is in the ground.
"The question is the same one as in the Waikato - can we get it out in a cost-effective manner."
Solid Energy is one of the state-owned energy companies slated for partial sale by the government, although is likely to be at the back of the queue.
It has said listing would give it access to capital markets crucial to its multi billion-dollar development plans involving its reserves of coal, gas and lignite throughout the country.
Pearce said that although the Huntly trial proved the technology, the soft short to medium-term gas price outlook and the expected cost of gas production there, increased CSG production was not justified now.
"One option could be to put the site into care and maintenance, ready to quickly ramp up when gas prices justify this."
In order to concentrate on Taranaki, the company is surrendering a number of permits at Waiau and Winton in the South Island, and a large area south of Auckland.
Extracting coal seam gas involves drilling vertical wells to the coal seam and pumping out the water held in the seam, reducing the pressure in there and allowing the gas to be released.
Fracking is used where the gas flow is weak and involves pumping large volumes of a fluid with some chemicals at high pressure down the well causing the coal seam to fracture. It is expensive on a mass scale and used in about 8 per cent of fields in Queensland where CSG has been commercially exploited for nearly 20 years.