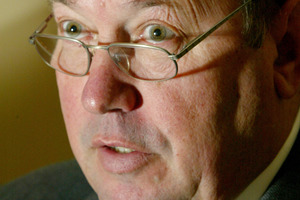 A former Dominion Finance and North South Finance director may not live long enough to face trial because he has terminal cancer.
Terence Butler was excused from appearing at the High Court at Auckland today where his lawyer said he had terminal cancer.
His co-accused Robert Barry Whale and former Dominion Finance chief executive Paul William Cropp and an accused with name suppression also face charges laid by the Serious Fraud Office. They pleaded not guilty through their lawyers.
Justice Timothy Brewer said Butler was "extremely ill".
"It might be that he is not fit to stand trial," Justice Brewer said.
All have been remanded on bail until their trial next year.
It is alleged that between 2004 and 2008, the defendants participated in unauthorised related-party lending totalling over $20 million.
Dominion Finance Group and North South Finance were operating subsidiaries of the NZX-listed Dominion Finance Holdings. Both companies offered property and commercial loans. DFG went into receivership in September 2008 and NSF went into receivership in July 2010.
DFH entered voluntary administration in October 2008 and was placed into liquidation in February 2009. In total, it is estimated the group owes creditors $400m.

- APNZ