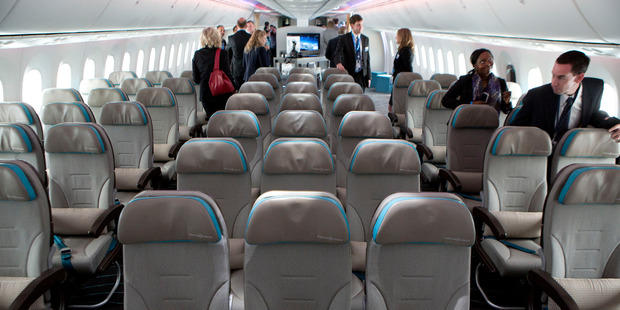 A fully fitted out Boeing 787 is scheduled to visit Auckland next week on the final leg of a global tour to show off the plane.
The Dreamliner is due in Auckland next Tuesday afternoon after a flight from Sydney.
Its world tour is seen as partly a sales trip for airlines that haven't bought the Dreamliner and for those that have - but have been forced to wait years for delivery - it is intended as a reminder that momentum is building in the production programme.
That schedule is still running years late after development delays and problems with outsourced production and supplies.
Boeing says after its two-day visit here, the plane will fly to Darwin before going to Uzbekistan and Morocco.
A Dreamliner did touch down in Auckland late last year but that aircraft was filled with flight test equipment in the cabin area.
The aircraft due here next week is fitted out with a business-class cabin, an overhead crew rest compartment and an economy class section with a 3-3-2 seating configuration.
When airlines order the aircraft they specify their own cabin layout.
A Boeing spokeswoman said that during the "Dream Tour" 65,000 people will go aboard the plane.
Airline officials, government representatives, Boeing staff, suppliers and journalists will be aboard during the transtasman leg of the tour.
The high-tech plane promises improved passenger comfort with larger, dimmable windows, bigger baggage compartments and smart lighting aimed at reducing jet lag. It offers 20 per cent more fuel efficiency compared with aircraft of a similar size.
It was to have reached the market in 2008 but the first delivery was not until last year. Launch customer All Nippon Airlines began flying passenger routes last October.
Continental Airlines has said it could be flying to New Zealand from Houston in summer, Jetstar next year and Air New Zealand in 2014 - a decade after it ordered the plane.
Air New Zealand has eight of the larger 787-9 versions of the aircraft on order and has said delays have severely hampered its long-haul growth aspirations.
Direct flights to the eastern seaboard of North America and South America will be possible as will services to India.