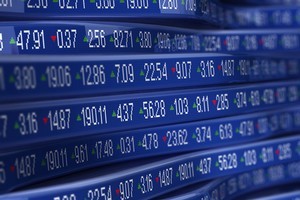 Australasian and Asian stock markets were pounded yesterday in the wake of election results in Greece and France that heightened uncertainty about Europe's ability to solve its debt crisis.
Oil fell by nearly US$2 to below US$97 a barrel on signs of a faltering United States economy.
The Australian ASX 200 closed 2.2 per cent down, while Japan's Nikkei index and Hong Kong's Hang Seng both tumbled 2.8 per cent.
European shares were falling last night, with France's CAC 40 off 1.2 per cent and Germany's DAX 50 down 1.5 per cent.
The kiwi fell to a fresh 3-month low on concerns about Eurozone leadership changes and concerns about growth in the US and China.
The kiwi fell to US79.20c at 5pm, down from US79.33c at 8am and US79.54c at the close of trading in New York on Friday. In early trade it fell as low as US79.07. New Zealand shares also dipped, with the NZX 50 down 0.27 per cent to 3540.
Weekend election results in Greece sent tremors throughout Europe as voters punished the parties responsible for unpopular austerity measures instituted to prevent the country from defaulting on its massive debts and exiting the euro currency bloc.
No political party won enough votes to form a government, raising the possibility of new elections within months and protracted uncertainty for global markets.
In France, President Nicolas Sarkozy lost to Socialist candidate Francois Hollande, who had criticised the country's austerity programme and wants to boost government spending.
Westpac New Zealand senior market strategist Imre Speizer said the kiwi sell-off had started on Friday night following the release of weak US jobs data. There was also nervousness about growth in China.
"Even without these euro kerfuffles the global market would have gone into a risk-off mode on the slower growth in the two big engines. Global sentiment would have gone lower anyway and the kiwi would have followed it."
He said the dollar recovered some ground yesterday afternoon following the release of stronger Australian retail and building permit figures.
The kiwi was expected to weaken further this year, Speizer said.
"It's got potential to go quite low, US78c in the first instance and if it overshoots that then we'll revise our downside targets."
However, later this year it could bottom out at US76c before embarking on a long, strong rally with commodity price recovery and the prospect of higher interest rates.
New Zealand shares fell for the third session in a row.
BT Asset management head of equities Paul Harrison said the same international pressures affecting the dollar were also hitting New Zealand shares.
Top 10 stock Chorus was also being sold off by local and international investors worried about a Commerce Commission draft ruling on pricing of access to its copper lines and the possibility of other services being regulated.
Chorus sank 6.5 per cent to $3.04, extending Friday's 7.7 per cent fall.
Harrison said about $200 million had been wiped off the value of Chorus since the regulation threat came up.
The sharemarket was being held up by Telecom and export-oriented shares including Fisher & Paykel Healthcare.
In Hong Kong managing director of Lyncean Holdings Francis Lun said markets were overreacting to fears Hollande would make good on a campaign pledge to renegotiate an agreement signed by Sarkozy to put the brakes on government overspending.
"Even though Hollande indicated he will repudiate Sarkozy's agreement with the European Union, in reality he cannot do it," Lun said. "It is understood that a new government cannot repudiate or renegotiate a treaty signed by the previous government."
Yet much could depend on French parliamentary elections next month. If there is a continued backlash against austerity policies, Hollande would face additional pressure to boost spending sharply. That could lead to further downgrades of France's credit rating and kick off a fresh wave of crisis fears, destabilising global markets.