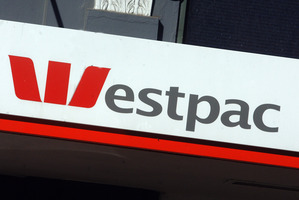 Bank profits have surged over the past six months but experts warn they will have to work hard to maintain their super-revenues and remain exposed to European financial turmoil.
Three Australian-based banks with New Zealand business have reported interim profits of $1.3 billion this year as costs have been cut and margins on lending widen.
Westpac yesterday said a 14 per cent boost in cash earnings in this country had been achieved despite a subdued economy. Earlier this week ANZ New Zealand reported its interim bottom line profit jumped 29 per cent to $615 million following a 31 per cent boost at ASB Bank to $372 million.
"Compared to any of their peers all four of the Australasian banks are absolute profit generators," said Paul Dowling, principal analyst at Sydney's East and Partners.
John Kensington, KPMG's head of financial services said banks had benefited from balance sheet growth through fair value revaluations, improved margins and since 2010 been able to better manage doubtful loans.
Financial turmoil in Europe would continue to be a threat over the global banking sector, although Australasian banks' reliance on offshore funding had fallen.
"They will be looking at it [Europe] very closely. At the moment they are able to borrow at reasonable rates from offshore and from the public here because there hasn't been a lot of bad news out of Europe lately."
Banks would also be carefully watching the Auckland housing price bubble.
"I'm astounded how quickly the Auckland housing market has heated up so fast. I don't want to be a doomsayer but I would hope we've learned from last time."
Kensington said the swing to floating mortgages rather than fixed loans had allowed banks to improve profitability as administrative costs fell and they were quickly able to respond to the cost of wholesale funding.
Dowling said the Australasian banks were borrowing about 60 per cent of their funds locally and the remainder offshore, a reversal of the pre-financial crisis ratio.
Senior lecturer in banking at Massey University Claire Matthews said banks were able to make savings as more consumers used electronic banking. She said a boost in profitability was an early sign of economic recovery.