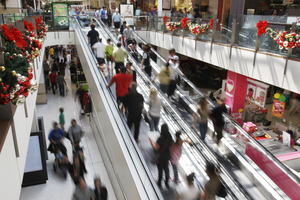 Business confidence has continued to improve, the National Bank's monthly survey shows, led by the retail and services sectors.
The April survey found 44 per cent of respondents expect the general business situation to improve over the next 12 months while 8 per cent expect it to get worse.
The net 36 per cent positive is up two points on March.
Firms' expectations of their own activity slipped two points, but with a net 36 per cent expecting better times it remains well above the long-run average of 26 per cent positive.
The lift in "headline" confidence masks some big sectoral differences, however.
A net 43 per cent of retailers are optimistic, up from a net 29 per cent in March, as are a net 46 per cent of service sector firms, up from 38 per cent last time.
Retailers' expectations of their own activity are at a 23-month high and profit expectations the highest for 11 years.
But confidence in the agriculture and manufacturing sectors slipped, by four and six points respectively, while construction dropped to a net 38 per cent optimistic from a sky-high net 61 per cent in the previous survey.
"It appears we are moving in the right directions, growth-wise," the bank's chief economist, Cameron Bagrie, said.
"But we need the right mix of growth if it is to prove sustainable."
The survey suggested a broadening in momentum beyond housing into the domestic economy.
"Time will tell whether this is realised," Bagrie said. "Auckland has become a housing focal point and is the obvious candidate to test the flow-through into the broader economy.
"The regional results do not show it yet - the Auckland survey results do not stand out from the rest of the regions."
The workhorses of the economy such as agriculture were not kicking on, and faced a persistently high currency despite falling commodity prices, he said.
"This is not the stuff of which export-led recoveries are made."
The domestic economy could carry the baton for a circuit, but it would run out of steam unless the income-generating sectors took over.
Firms' investment intentions lifted three points to a net 18 per cent positive, the highest reading since 2005 and well above the historical average of a net 12 positive.
Export intentions improved for the fourth month in a row, rising two points to a net 23.
But this indicator is still well below its historical average of a net 32 per cent positive.
Employment intentions bucked the trend and declined three points to a net 8 per cent positive.
A net 19 per cent of firms expect to raise prices over the next three months, down three points on March.
Inflation expectations were unchanged at 2.8 per cent.
Bagrie said: "There is nothing in these results to waken the Reserve Bank from an extended siesta of an unchanged official cash rate."