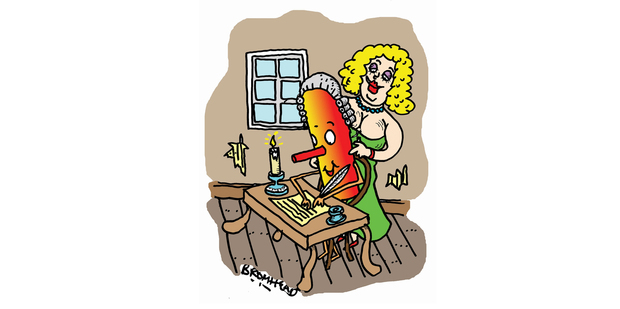 When a youthful international journalist asked me "are you still working in Grub Street?" I was taken aback.
I hadn't heard the expression for years, and thought it would be meaningless in today's media world.
It's an aged metaphor for those, such as myself, working in the outreaches of the newspaper industry, fossicking around like chickens, searching for anything vaguely interesting to record.
According to Samuel Johnson, "London's Grub Street was originally inhabited by writers of small histories, dictionaries and temporary poems, thus the term grubstreet." It later became synonymous with impoverished writers producing work of low literary value.
There were many publishing houses in the area during the 17th and 18th centuries, combined with a profusion of small garrets that housed "writing hacks" - literary drudges who were hired by producers of news pamphlets.
Ned Ward, a satirical 17th century author, caustically described "writing hacks" as nothing more than "literary strumpets".
I can sympathise with Ward, whom a contemporary described as "a man of low extraction who never received any regular education and therefore ended up becoming a satirist, living in poverty, because his humorist couplets returned him only meagre financial rewards during his lifetime".
Poor old Ned would find nothing has changed over the centuries.
Those early Grub Street news pamphlets had some weird and wonderful titles.
I would have been intrigued, as was 17th century author John Dunton, to be commissioned to produce background pieces for The Night Walker: Evening rambles in search after lewd women, produced in 1696.
Bribery charges facing Rupert Murdoch's London tabloids also appear to be nothing new.
Robert Walpole's 18th century ministry paid more than £6 million (in today's terms) to Grub Street publications to "subsidise a sympathetic press towards his Whig government".
Today, Grub Street no longer exists, having been long replaced by the imposing Barbican Business and Financial Centre.
Hacks, however, still churn out work in much the same manner as our long-forgotten companions in trade.
All that's missing in today's urbane but vapid, computerised media world is the colourful, bawdy background of yesterday's coffee houses, low-rent flophouses and brothels where the newspaper industry originated. Now ain't that a shame.