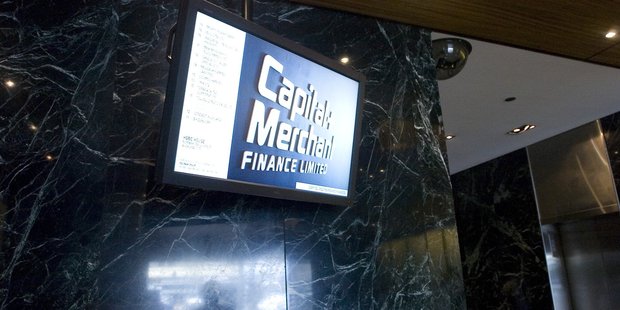 Capital+Merchant went into receivership in November 2007 owing $167m to about 7500 investors. No funds are expected to be recovered. Photo / Jason Dorday
Two former Capital+Merchant directors would have received 80 per cent of the profits from a property they are accused of improperly using investor funds to refurbish, a Crown witness says.
Neal Medhurst Nicholls and Wayne Leslie Douglas are on trial in the High Court at Auckland in a case brought by the Serious Fraud Office.
The pair face one criminal charge for theft by a person in a special relationship and two for the publishing of false statements. The latter carry maximum penalties of 10 years' jail.
As well as being Capital+Merchant Finance directors, the defendants headed a company allegedly $3 million out of pocket and in mortgagee possession of a run-down Palmerston North office block.
Between 2002 and 2004, Capital+Merchant allegedly advanced $14.5 million of investor funds to related parties, which purchased the office block and another one nearby and converted them into student accommodation known as "the Hub".
A former farmer and real estate agent, Bruce Stokes was allegedly employed as a "frontman" to disguise the related-party lending.
Stokes was brought in to make it appear the lending was at arm's length and would "not raise any eyebrows with the public", Crown prosecutor Nick Williams argued in his opening yesterday.
Appearing as a Crown witness today, Stokes said he was indemnified against personal loss if the development failed but understood he would make 20 per cent of the venture's proceeds if it was successful.
Asked who would get the other 80 per cent, Stokes replied: "Wayne and Neal".
But the project did not run to plan.
Stokes described numerous issues with the development, including budget over-runs and time delays.
When the project was completed, rents to tenants had to be decreased because of an oversupply in the student accommodation market, Stokes said.
The strife with the properties "gave me a few sleepless nights," he said.
When interest or principal could not be paid on the Capital + Merchant loans, the accused then made a plan to transfer ownership of the properties, according to the Crown.
The accused also arranged a deal with former Blue Chip boss Mark Bryers and gave him 100 per cent finance to buy the properties, the Crown alleged.
After ongoing issues, the properties were finally sold for $3.73 million, of which Capital + Merchant received nothing, the Crown said.
Capital+Merchant went into receivership in November 2007 owing $167 million to about 7500 investors. No funds are expected to be recovered.
The Crown said the directors deliberately omitted information about the related-party loans in two prospectuses in order to induce investors to put their money into Capital+Merchant.
Due to the lack of disclosure, investors could not ascertain the risk of advancing funds, Williams said.
"This is a classic case of the directors of a finance company knowingly and deliberately using the company for unauthorised purposes which they hid from the trustee and investors. In law, such use amounts to theft," Williams said in his opening statements yesterday.
"The transactions were not prudent arm's-length transactions and they caused significant loss to the company and thus the investors," he said.
The trial continues today and is expected to take about 2 and a half weeks.