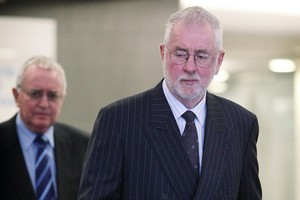 A former director of collapsed Five Star Consumer Finance has pleaded guilty to two charges involving the theft of more than $50 million.
Anthony Walpole Bowden appeared at the High Court at Auckland yesterday where he pleaded to two charges of theft by a person in a special relationship.
The charges relate to Five Star Finance loans, one of which involves loans totaling over $35.9m. The second involves loans of over $14.2m.
Five Star marketed itself as a low or modest-risk finance entity that made small consumer loans for household purchases such as fridges.
Instead, it was allegedly investing large sums in complex commercial and related-party loans totalling more than $50m.
In 2007 Five Star Consumer Finance collapsed with losses of $42m. Other companies in the group, Five Star Finance and Five Star Debenture Nominee, owe a further $43m.
According to the Crown's indictment, Bowden _ together with alleged de facto director Neill Allan Williams _ dealt with Five Star loans in terms other than prescribed in the Trust deed.
Crown lawyer Nick Williams told the court yesterday the Crown would not be offering evidence on seven other charges of dishonestly using a document.
Bowden's lawyer Todd Simmonds asked the court to order a pre-sentence report but said a second report into the possibility of his client paying reparations to investors was ``unlikely to be of any use''.
Justice Paul Heath convicted Bowden on both charges and remanded him on bail. He also called for a report into the suitability of home detention.
Bowden's fellow Five Star directors _ Marcus MacDonald and Nicholas Kirk _ last year pleaded guilty in the Auckland District Court to charges brought by the Serious Fraud Office of theft by a person in a special relationship.
The pair also pleaded guilty to Securities Act charges. Kirk and MacDonald were sentenced to more than two years in jail late last year but have since been released on parole.
Bowden pleaded guilty to Securities Act charges and was sentenced to nine months of home detention.
Bowden will be sentenced for the theft charges in June.