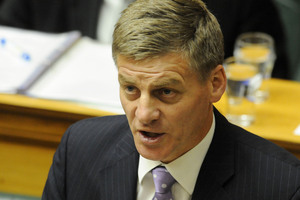 Progress on transtasman dividend imputation looks unlikely as New Zealand and Australia continue to bunker down against chill global economic winds.
While business leaders in both countries urged reform at the Australia New Zealand Leadership Forum in Sydney, governments had little will for change. Business pressure has grown with an increased awareness among Australian companies operating on both sides of the Tasman of the potential benefits to shareholders.
Finance Minister Bill English said that in the past the emphasis had been with New Zealand asking for something for which Australian shareholders were the prime beneficiaries.
Double taxation on $45 billion worth of Australian investment in New Zealand was a significant incentive. But early, major change was unlikely, with both governments under fiscal pressure.
"They're not going to move in a hurry, but I think there's a desire to get a better, detailed understanding of the political costs and benefits," he said.
"Maybe further down the track when circumstances are more favourable we could have a push on dividend imputation."
There is also little practical enthusiasm for a united assault on Asian markets, despite the potential detailed in a paper by former Australian Treasury Secretary Ken Henry, at present working on a white paper on the nation's future in the Asian century.
There has been discussion about opportunities for New Zealand and Australia to work together, but English said it was difficult to see how this could be done.
Even by Australian standards New Zealand companies were small, and potential markets and opportunities in Asia were so large "we're hardly going to crowd each other out".
Instead, both countries needed to look at national capacities and their ability to do business, where niches and opportunities lay, and the development of policies that increased domestic competitiveness.
"When you look at those opportunities the best thing policymakers can do - and this is a pretty strong message from business - is to take those steps a government can to lift competitiveness, so our own economies are flexible enough for people and capital to move where the opportunities are," Mr English said. "That can be a pretty stressful process."
Regulatory regimes also needed to be as competitive as possible because New Zealand and Australia were not alone in looking to Asia, especially with low growth in the United Kingdom, Europe and the United States.
Business leaders also wanted to further boost ease of transport across the Tasman.
While progress had been made, more potential still lay in the processing of passengers and baggage to make the crossing more like domestic flights. Passport-free travel is not on the horizon at present. But English said the new SmartGate processing system could be expanded significantly, allowing people to simply walk through border controls.
"In New Zealand we've got the SmartGate option both inwards and outwards," he said. "Australia's tried it outbound, it seems to work, and they have the opportunity to extend it."
And while arguments for a common currency canvassed in a discussion paper last month by the two countries' productivity commissions are unlikely to go far, there is wide support for further, rigorous analysis of transtasman economic and regulatory ties.