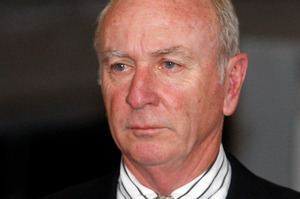 Bridgecorp investors have welcomed guilty verdicts for three directors but say it brings them little relief.
Directors Rod Petricevic and Rob Roest were found guilty today at Auckland High Court on 10 Securities Act charges, while Peter Steigrad was found guilty on six of the 10 charges he faced.
Petricevic and Roest were also convicted on a further eight charges brought under the Crimes Act and Companies Act.
The trio went through a four-month trial on charges of misleading investors.
One investor, Rex Warren invested $1 million in the company and today said it was the right outcome but it brought little closure.
"Of course they're guilty, but the punishment doesn't fit the crime.
"I would be willing to pull the lever or pull the trigger if they were hung,'' said the Katikati man.
Warren believed his loss could have been avoided.
"I can say we made mistakes, but in my case most of the (Bridgecorp) staff knew what was happening when we invested our money but they didn't say anything.''
An investor from Hamilton, who did not wish to be named, was pleased with the result but agreed the effects were ongoing for victims.
"Obviously we're pretty happy about it and I hope the prosecutor gets his way - I think he's requesting a lengthy jail term.
"It won't bring closure but it's good the process is over,'' he said.
The man was one of the most recent investors in Bridgecorp before it collapsed, which had made the ordeal particularly painful, he said.
The three directors were accused of making untrue statements in Bridgecorp's offer documents.
Petricevic and Roest were also accused of knowingly making false statements in offer documents about the finance company never missing payments of interest or principal to investors.
The Crown alleged Bridgecorp began missing payments almost five months before it collapsed in July 2007, owing $459 million to 14,500 investors.
The trial of the three directors began in October after numerous delays. In its final days, Petricevic and Roest began pointing the finger at each other.
The bone of contention was whether Roest informed Petricevic about problems with payments to investors.
Petricevic and Roest have been remanded in custody, with Justice Venning telling Petricevic a jail sentence was "inevitable''.
Steigrad was remanded on bail until sentencing on May 18.
Petricevic will be sentenced on April 26 and Roest on May 18.
The Securities Act charges carry a maximum penalty of five years in jail or a fine of up to $300,000. Those under the Crimes Act carry a maximum penalty of 10 years imprisonment, while the Companies Act charges carry a maximum penalty of five years imprisonment or fines of up to $200,000.
Former Bridgecorp director Gary Urwin is due to be sentenced later this month on Securities Act charges.
He originally pleaded not guilty and appeared in court with Petricevic, Roest and Steigrad but changed his plea in November last year.
Urwin's lawyer David Reece asked in November for a home detention report to be prepared, but prosecutor Brian Dickey said the Crown would seek a term of imprisonment.
Former Bridgecorp chairman Bruce Davidson was sentenced to nine months of home detention in October after changing his plea to guilty, and was ordered to pay $500,000 reparations and perform 200 hours of community work.
- APNZ