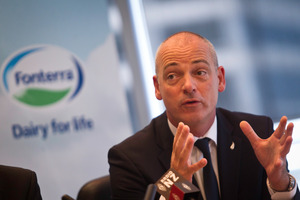 New Fonterra boss Theo Spierings has put his hand firmly on the tiller at the farmer co-operative with a strategy aimed at growing volumes and value, including a tighter focus on emerging markets.
Dutchman Spierings has a record of bold strategic moves. In 2008 he led Dutch dairy co-operative Royal Friesland Foods into a merger with Campina, creating Royal FrieslandCampina.
Six months after taking over as chief executive at Fonterra he has set the agenda at New Zealand's biggest company.
The strategy refresh was built on an in-depth look at the co-operative's strengths, social and economic trends as well as the underlying projections for a marked increase in global demand for milk, Spierings said.
Strong economic and population growth in emerging markets was driving a situation where demand was forecast to grow by more than 100 billion litres by 2020, with New Zealand expected to contribute five billion litres of additional supply, Spierings said.
"With overall demand growing, we need to grow volumes to protect our position as the world's leading dairy exporter," he said.
"In addition, nutritional needs, particularly among the young and the elderly, are getting more urgent and specific, which is where we have the capability to add significant value."
The outlook to 2020 showed emerging markets would have to import but would also drive local milk pools. The best example was China with forecast demand growth of 7 per cent and milk supply growth of 4 per cent.
"There is an imbalance, there is a window of opportunity for exports in New Zealand milk but there's also a window of opportunity to tap into ... local milk pools."
The strategy contained elements to grow volumes, target high-value areas of nutritional need and execute plans at speed, he said.
"We call it the three Vs - volume, value and velocity."
Fonterra said the full strategic refresh amounted to more than 100 projects, including a strong push on the fast-growing emerging markets of China, Asean and Latin America where the company had a strong presence, and building integrated milk pools overseas to bring higher returns back to NZ.
"We see much lower growth of dairy exports from New Zealand to the mature markets of Europe and North America so will need to refocus our operations there, with a greater emphasis on working with local partners, local added-value processing and exports through the network."
Australia and New Zealand generated good cash flows and would be defended at all costs, he said.
There was potential to significantly grow milk volumes outside New Zealand.
"Our pilot dairy farms in China are now producing some of the highest-quality milk in the country and we are looking to accelerate the development of a quality milk supply in China and integrate that with our local business by manufacturing products for Chinese customers," Spierings said. "We don't have to fully own the farms or factories, we can achieve the same result through partnerships and supply agreements, which is how we run our integrated businesses in Australia and Latin America."
Fonterra would continue to move higher up the value chain.
"We currently have some great high-margin consumer products and there is an opportunity to grow sales further by pushing into new markets and with new products."
Foodservice had enormous potential. "This is already a billion-dollar-a-year business for us.
"With the worldwide trend to eating out and on the go, we want to really invest in growing this business in China, Asean and Middle East-North Africa, while exploring options for a similar business in Chile and Brazil."
A large part of the strategy refresh had been about making choices, Spierings said.
"We want to make fewer bets and really focus our resources where we know we can win."
In the area of advanced nutrition Fonterra would focus on the nutritional needs of mothers and babies, and healthy ageing.
Spierings said he did not like using the word radical change "because radical is for me out of your comfort zone".
"The differences for me are really we were focused on value growth in the past and I think we are having two drivers going forward," he said.
"It's a growth strategy both volume and value, volume talks about staying relevant and value talks about bringing maximum returns for our farmers."
On the agenda
More than 100 projects including:
* Strong push on fast-growing emerging markets.
* Optimising the New Zealand milk business.
* Building integrated milk pools overseas.
* Growing volumes of higher value consumer branded and out-of-home nutrition.
* Tighter focus on nutrition needs of mothers, babies and ageing populations.