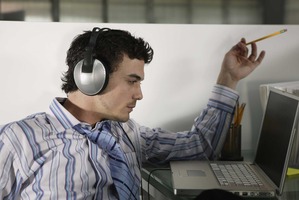 I was working with a very bright man, fast-thinking but easily distracted. He's one of those people we all loved to hate at school or uni - the ones who flew through their exams with hardly any study, so bright they still got great grades. The rest of us mere mortals slaved away, muttering in our tea cups about how unfair it was.
However, life has a way of levelling the playing field. I've noticed repeatedly over the years that the folk who don't have to work hard at school and university often struggle when the 'real world' starts to deliver its 'no favourites' lessons. And that's what happened to 'Tom'.
By his own admission one of his greatest strengths, his very sharp mind, was also one of his greatest weaknesses. Because he'd never learnt to really apply himself he'd not built the habit of concentration and application through the tedious stuff. And doesn't every job have boring bits!
The result of this? Unacceptably low hours of billing in his professional services firm. Finally the senior members of the firm had had enough and I was called in.
Apart from what I've already told you, 'Tom' identified the following problems:
• Not able to stick at projects for long
• A tendency to wander off down the hall to chat to others when 'stuff' got boring, thereby stopping their productivity as well
• Very willing to stop when people came into his office for work-related queries. A quick minute often expanded to many minutes.
• Door always open - he never said or implied 'do not interrupt'. Instead the unspoken message was 'do interrupt - I'm always good for a chat'!
• Turning to the computer for light distraction randomly through the day, even though he didn't in fact use it very much
• Didn't plan his week and didn't use a diary
• Not so excited about his work - the 'fun' factor was missing
• Senior people were constantly dissatisfied with his performance and voiced it.
Over the next few months he worked steadily at the logical things you'd expect me to recommend. But the BIG change came as a result of one question towards the end of our time together.
'So, Tom, what's still the biggest distraction to you?'
'The computer.'
I thought about this for a second and, (thank you God for the inspiration) I 'happened' to ask 'How much do you use your computer?'
To my surprise the answer was 'Very little - really just for email and my secretary manages most of that.' You might be surprised too, but look at the list:
• Most of the documentation he deals with is in paper form by the time he gets it
• His answers are dictated, transcribed and returned for checking in paper form (and in his case that's the right way to do it. We read about 25 per cent slower on a screen and are far more likely to miss details.)
• A lot of his work involves speaking to clients, taking or making notes on matters (which for almost all of us is most efficiently done with pen and paper)
• And much of the rest of his time is spent training and supporting his large team
'Would it be a problem if you took the computer off your desk?' was my next query.
Pause. 'No.'
And that's what he did. He shifted it to a shelf a few steps away and now stands up to use it. It's accessible but not comfortable any more. The result was startling- he instantaneously became much more focused.
A really interesting observation also came from his HR Manager.
'By shifting his computer it's as though he's sent a message, not only to himself but also to everyone who comes in the office, that things are different now. It's a marker in the ground that from now on he's not open for irrelevant distractions.'
The result: Over the four months we worked together his billable hours jumped 200 per cent!!
You might like to ask yourself:
What is my biggest distraction? And what can I shift or change in either my environment or my patterns of behaviour that will get rid of it?
Reader giveaway: We have 2 double passes (worth $190.00 each) to giveaway to Robyn' next Breakfast Club in Christchurch (30th March), Auckland (27 April) or Wellington (25th May). To be in to win, email your entry now to jill@gettingagrip.com with Breakfast (NZ Herald Online) in the subject line. Entries close by 5pm Friday 20th March. For those who miss out, tickets and more details are at: http://www.gettingagrip.com/breakfastclub/
Robyn Pearce (known as the Time Queen) runs an international time management and productivity business, based in New Zealand. Get your free report 'How To Master Time In Only 90 Seconds' and ongoing time tips at gettingagrip.com