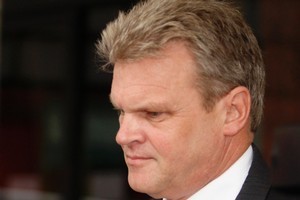 Former Bridgecorp director Rod Petricevic was aware that the failed finance company's payments to investors were "delayed", according to his co-accused Rob Roest.
Roest and Petricevic - along with fellow director Peter Steigrad - are accused of misleading investors in Bridgecorp's offer documents and are on trial in the High Court at Auckland.
As well as charges under the Securities Act, Petricevic and Roest face eight counts of knowingly making false statements in offer documents that Bridgecorp had never missed interest payments or repayments of principal to investors.
According to evidence tabled earlier in the case, Bridgecorp began missing payments from the February 7, 2007.
Bridgecorp collapsed in July 2007, owing 14,500 investors $459 million.
Under cross-examination from Petricevic's lawyer Charles Cato this morning, Roest said he had told his co-accused of missed or "delayed" payments to investors.
When giving evidence in his own defence last week, Petricevic said the he first become aware of missed maturities payments in February and March 2007 when he read it in the newspaper after Bridgecorp went into receivership.
However, Roest said today that he had discussed the issue with Petricevic when the finance company was still operating.
"(Petricevic) was aware of the situation... I spoke to him orally, our offices were next to each other, we spoke to each other every day," Roest said.
Cato put to Roest that he kept the issues of missed payments to himself because the former director "thought it was under control".
"I disagree," Roest replied.
"(Petricevic would) ask 'what's the latest?' Or 'what's the update?' and we'd discuss what the situation was," Roest said.
Roest said he was a little uneasy that Petricevic had not raised the issue with Bridgecorp's board.
Roest's cross-examination continues today.
The trio on trial deny the charges against them.