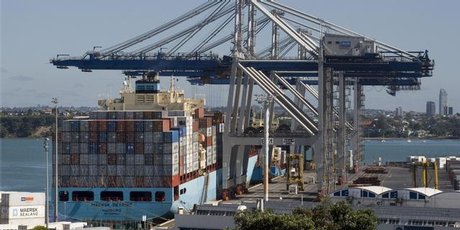 New Zealand reported a trade deficit in January as a one-off aircraft purchase skewed the import balance, erasing what would have been a small surplus.
The trade balance was a deficit of $199 million in January, turning from a revised surplus of $306 million a month earlier, according to Statistics New Zealand. Stripping out the aircraft purchase, the nation would have registered a surplus of $14 million, smaller than the $200 million figure forecast in a Reuters survey of economists.
The value of monthly exports rose 13 per cent to a bigger-than-expected $3.74 billion in January, while the value of imports climbed 19 per cent to $3.94 billion. On a seasonally adjusted basis, monthly exports fell 0.5 per cent to $4.2 billion and imported goods climbed 9.7 per cent to $4.3 billion.
The annual trade balance was a surplus of $646 million, short of the $1.28 billion forecast after November's import balance was revised up by $224 million.
Foreign sales of milk powder, butter and cheese led gains, up 25 per cent to $1.3 billion in the month.
Seasonally adjusted volumes of dairy product fell 1.3 per cent to 234,000 metric tonnes from a month earlier.
Casein and caseinates climbed 49 per cent to $87 million. The $12.96 billion value of exported dairy products account for about 27 per cent of the nation's annual exports.
Meat and edible offal sales fell 13 per cent to $408 million in the month, while crude oil declined 21 per cent to $141 million.
Both sectors sold less product overseas than in December, with meat exports down 0.7 per cent to 54,000 tonnes and crude oil exports sinking 39 per cent to 133,000 tonnes.
"The trend of dairy exports has increased strongly since August 2011," industry and labour statistics manager Neil Kelly said in a statement. "The trend for meat exports has been falling since July 2011."
The value of fruit exports gained 18 per cent to $43 million from the same month a year earlier. The volume sank 52 per cent to 70,000 tonnes after a sales glut in December when crops reported a large yield.
Annual exports rose 10 per cent to $48.14 billion, while imports rose 11 per cent to $47.94 billion in the 12 months ended Jan. 31.
Imports rose faster than expected led by a 35 per cent increase in petroleum and products to $787 million. Vehicles, parts and accessories gained 14 per cent to $317 million in the month.
Last week, HSBC bank economists said New Zealand is on track to outperform global trade growth amid growing demand out of emerging nations in Latin America and Asia. The bank is picking annual trade growth of 5.9 per cent for the next five years, beating worldwide expansion of 3.8 per cent.
Exports to Australia, the country's biggest trading partner, rose 4.9 per cent to $725 million in January, while sales into China surged 38 per cent to $629 million.
Chinese imports rose 17 per cent to $640 million, while New Zealand bought $472 million of goods from Australia, down 4.4 per cent from January last year. China was the biggest source for annual import into New Zealand at $7.53 billion, eclipsing Australian goods worth $7.46 billion.