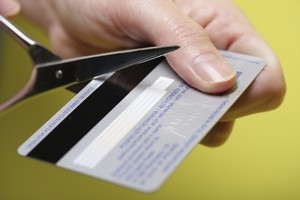 Banks operate in several despicable ways, and one is the honour and dishonour fee rort. If there isn't enough money in an account to cover a withdrawal or direct debit, the bank lets it go through, but then hits the customer with an honour fee, or unarranged overdraft fee.
In most cases a customer can't simply make arrangements with the bank for zero funds to mean no payments and thus say goodbye to honour and dishonour fees. It's not uncommon, budget advisers say, for people to be hit with $100 or more honour and dishonour fees in a month thanks to their direct debits and automatic payments.
I'm sure every reader has been hit with these fees occasionally, even if they have healthy balances in other accounts. In my case I'd transferred cash to my credit card. The only trouble was that the bank put my payment against current month's spending, not the full bill. It didn't go unnoticed by me that I was charged a $10 fee for a payment from one of my accounts to another.
There wasn't even a third party involved.
Banks run sophisticated computer systems and one would hope that they want their customers to manage their money better. Why not introduce a system that enables them to do it? A cynic might think they're stacking the cards against customers to extract every last cent out of them.
There are several ways to avoid honour and dishonour fees of $10 here or $20 there. None is perfect. Had I been a Kiwibank customer, I could have avoided the problem. As Kiwibank spokesman Bruce Thompson told me this week, the bank makes two attempts to honour direct debits before charging a fee. It would be really good if this was combined with a text or email saying "you have insufficient funds to cover your direct debit tonight".
Kiwibank also has a couple of different types of "sweep" facilities.
The "dynamic sweep" automatically takes money into the current account from savings when needed. A dynamic sweep doesn't suit everyone as it keeps sweeping as you spend through eftpos or online, which isn't good for poor money managers.
Westpac also has sweep facilities, but charges 40c a sweep, which could add up to a significant monthly sum.
Because the ASB doesn't have a sweep service, I considered the possibility of setting up an overdraft.
That is until I worked out it would cost $25 to set up and $60 a year to run, to avoid the possibility of a $10 fee every year or two when my failsafe system failed.
In the end I opted for text alerts at 20c each (some banks offer email alerts). Texts are very helpful as a reminder that an account balance is getting low and for people who run their accounts close to the wind.
A text wouldn't have prevented my little transgression with the ASB computer this time.
The balance of my current account appeared perfectly healthy. The text wouldn't have warned me that my cash transfer had not been credited to my soon-to-be direct debited Visa bill.
One National Bank customer I spoke to this week found a way around honour fees with her bank.
"I couldn't understand why the bank kept allowing me to spend more than I had in the account and then pinging me," she said. "So I rang my bank and complained, and they said they could put an order on my account so that my transaction would be declined if it took me under $0."
ASB and the National Bank have these systems, called "account holds" and "opt out". They work by stopping eftpos and ATM use if an account has no money in it.
But with direct debits and automatic payments, the customer is still hit with a dishonour or unarranged overdraft fee when the payments are declined.
Banks are entitled to make a profit. But it doesn't cost a bank $10 or $25 to automatically disallow a payment - just a few cents.
I'd be happy for them to make a 100 per cent mark-up on the actual cost. I should point out that while in overdraft a customer is paying interest, so the bank is still making legitimate profit.
As an aside, I wouldn't mind being blasted with ads on my online banking in preference to being hit with punitive fees.
The BNZ has no honour or dishonour fees. Even so, if it honours payments where there are insufficient funds in the account there is a $5 unarranged overdraft fee, which still costs customers.
One bank said to me this week it was good to be with a bank that honoured payments, especially with insurance. But I don't believe the bank is doing people a favour by charging $10 to remind them to pay the insurance bill. Insurance companies send out reminders if the direct debit doesn't go through.
They usually have a period of grace, as well, something banks could learn from.
The topic of honour and dishonour fees came up in discussion with a young relative. "They do it to children," he fumed.
What he recounted was despicable. In his teens he kept being hit with honour and dishonour fees, and interest on top of that. It was a vicious circle that many young people don't have the financial nous to handle.
This is another example of how honour, dishonour and related fees are bad PR for the banks. That $10 fee doesn't give me warm feelings towards my bank because it's helping me improve my money management.
I know how to manage my money. I was foiled by the system that was stacked against me.
It's the people who are struggling most financially that are hit hard with honour and dishonour fees.
On the other hand people like me who make the occasional mistake could go to their bank and ask for the fee to be reversed, says Shaun Drylie, ASB's general manager of cards, transactions and payments.
The honour and dishonour fees are designed to be a disincentive to customers who do this regularly.
All of the banks I spoke to this week said they encouraged customers to come in and discuss their personal situation with them to look for ways to minimise fees.
In Australia, banks are coming under increasing pressure about dishonour fees. Class actions have been started by a lawyer on behalf of 160,000 people against the leading banks. The claims relate to "exception" and dishonour fees charged on credit cards and transaction accounts.
Buddle Findlay partner Gene Turner believes the Australian argument is relevant to New Zealand because a contractual provision that requires the payment of a specified sum upon breach of the contract may not be enforceable if the sum is not a genuine pre-estimate of the loss flowing from the breach of the relevant obligation.
The only trouble is that if the Australian case is ultimately upheld, it's likely the banks will simply change their terms and conditions so the fees aren't penalties, but something like request fees to go into overdraft.
Should not the Commerce Commission be doing something about it here, I wondered? Honour and dishonour fees on transactional bank accounts come under the Fair Trading Act, according to a Commerce Commission spokeswoman.
"Under the FTA banks need to ensure all fees are properly disclosed and not misleading. The level of fees is not covered by the FTA."
The Credit Contracts and Consumer Finance Act might apply, though, if a payment to a credit card or loan is dishonoured.
"This is not a matter we have investigated, so we cannot comment about the reasonableness of such fees," she said.
Unfortunately, the Commerce Commission doesn't have bottomless pockets.