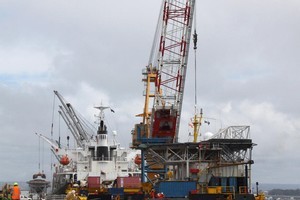 Port of Tauranga, which delivered a record half-year result yesterday, says it's benefiting from the ongoing industrial dispute over pay and conditions at competitor Ports of Auckland.
Chief executive Mark Cairns said the unrest north of the Bombay Hills, which has resulted in some shipping being rerouted through Tauranga, had contributed arbout $500,000 in earnings before interest and tax (ebit) to the company during the six months to December 31.
Ports of Auckland chief executive Tony Gibson has said the loss of business from shipping line Maersk and dairy co-op Fonterra could cut port revenue by $25 million a year.
Total revenue for the half-year at Port of Tauranga rose 14 per cent to $105.7 million, compared with the same period a year earlier, while net profit surged 22 per cent to a record $34.6 million.
"The results are a tribute to Port of Tauranga's staff and service providers, who have responded quickly to the growth in demand due to the ongoing recognition of our reliability, productivity and competitiveness and also to the short-term increase in demand in the wake of the industrial dispute at Ports of Auckland," said chairman John Parker.
Cairns said the company was working hard to ensure shipping that had been relocated to Port of Tauranga as a result of the Auckland dispute remained in the Bay of Plenty. "We'll be doing our best to compete against Ports of Auckland to keep that volume," he said.
In a further escalation of the industrial strife, it was announced yesterday that Maritime Union members will go on three week-long strikes from today through to March 16.
Port of Tauranga said container numbers increased 17.1 per cent to 344,081 TEUs (twenty foot equivalent units) in the half-year, compared with the same period a year earlier.
Container traffic at its MetroPort - an "inland port" in an industrial area of Auckland - rose 10.8 per cent on the earlier period to 80,746 TEUs.
"Auckland importers and exporters recognise that by using MetroPort Auckland they can transport containers to and from their market in a timely and cost-effective way," said Cairns.
Craigs Investment Partners analyst Geoff Zame said Port of Tauranga's half-year result was solid and showed the market share gains the company was making as a result of the Auckland dispute.
Market expectations were for a 25 per cent increase in container volumes for the company's full financial year, Zame said, which would bring the company close to capacity until it got its sixth crane and additional berthage sorted out early next year.
Cairns said that port facilities were getting stretched by the increasing demand.
"We've got the wharf being extended and a sixth crane and a whole lot more straddles coming.
"But there's not a lot of headroom left in the next few months - that would be a fair way to describe it."
However the company said it was well-placed for its second half.
Six new shipping services had been secured during the first half, which the firm said was recognition of its reliability and productivity.
Forestry exports were likely to remain strong, Port of Tauranga said, driven by continued demand from China and India, despite the ongoing strength of the New Zealand dollar.
Parker said full-year after-tax earnings were expected to be in the range of $69 million to $72 million.
Port of Tauranga shares closed up 6c at $10.86 yesterday.