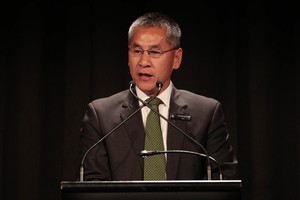 Analysts have upgraded Fletcher Building's outlook, pointing to the interim result out tomorrow possibly being better than expected.
A construction materials outlook from global business RBS rated Fletcher to a stock to buy, priced it at $7.44 and said it had become one of its choice picks in the Australasian sector.
Shares closed up 7c at $6.50.
Kar Yue Yeo, at First NZ Capital, and Andrew Peros, at Credit-Suisse, predicted a lift in Fletcher's second half-year thanks to falling Australian interest rates and a slight recovery in New Zealand's building sector.
The market had braced for the worst and analysts had downgraded the company late last year, after a downbeat presentation from chairman Ralph Waters and chief executive Jonathan Ling at the annual meeting, when they issued grim summaries of a combination of bad events which hurt the business, including low new-housing starts, floods in Thailand, Christchurch earthquakes, the ruptured gas pipeline in Taranaki which hurt production, a flat commercial building sector and European turmoil undermining business and consumer confidence internationally.
Ling referred to a disappointing start to the June year and said staff numbers had fallen at Fletcher businesses. About 220 jobs had gone at PlaceMakers, many through natural attrition and reduced casual labour.
But RBS was optimistic about Fletcher's fortunes.
"We see attractive upside leverage in Fletcher as its key construction markets rebound towards midcycle levels. Nearly all Fletcher's end markets are depressed, so its leverage to improving demand is significant. Underlying activity will be further supplemented by significant work associated with the Christchurch rebuild and leaky homes repair to provide robust conditions in New Zealand for some time. Fletcher joins CSR as one of our preferred picks in the building materials space. Our $7.44 average valuation and price target sits 16 per cent above the current share price.
"RBS is taking a more positive view of the sector generally," the report said.
"After a difficult first half, we expect that the latter part of 2012 will show the first signs of improvement in the major construction markets across Australia, New Zealand and the United States. This should provide some much-needed support for the listed building materials stocks. Against this backdrop, we recommend a shift away from the performers of 2011 towards the value names. As a result, we raise our rating on Fletcher to buy, and it joins CSR as one of our preferred sector exposures," RBS said.
Kar Yue Yeo and Peros said the New Zealand and Australian building cycles were at or near their troughs.
The consensus of analysts' estimates was for Fletcher to make $346 million net profit after tax for the year to June 2012, they said, although the two analysts are predicting well under that at just $320 million.
"The upside for Fletcher from here in is through recovery in the Australasia building cycle, the post-quake rebuild in Christchurch and capital-ising on structural opportunities for supply of pipes to the gas and water industries," the two analysts said.