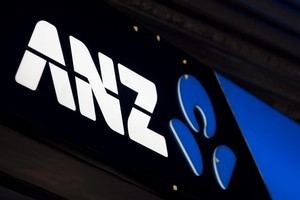 ANZ National Bank, New Zealand's biggest lender, reported a fall in lending volumes in the final three months of last year, even as it grew its deposit book.
Its Australian parent, Australia & New Zealand Banking, said its New Zealand business reported a 0.7 per cent fall in lending volumes in the three months ended December 31, and 2.4 per cent growth in deposits.
Group profit before provisions rose 6 per cent to A$2.3 billion on a 5 per cent lift in revenue to A$4.3 billion.
It took a A$239 million charge on providing for impaired assets, and expects this year's provisioning to be about the same level or slightly lower. Net profit was A$1.48 billion.
"There will not be a return to the level of credit growth that banks experienced pre-crisis for the foreseeable future, particularly in our major domestic markets in Australia and New Zealand," chief executive Mike Smith said.
The bank said its "business simplification programme" had stripped out some early costs in New Zealand without denting customer satisfaction.
Last month, ANZ scotched suggestions it might axe New Zealand jobs as part of its cost-cutting programme. This week it said it would shed 1000 Australian staff this year.