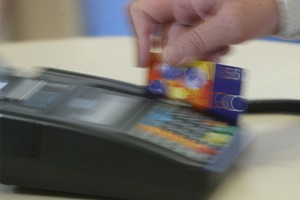 After a soft patch late last year, last month's electronic card transactions point to a rebound in retail spending.
Purchases charged to credit, debit and charge cards, which represent about 60 per cent of retail spending, were up across the board in January compared with December on a seasonally adjusted basis.
Total retail spending charged to cards rose 1.2 per cent, after shrinking 0.6 per cent in November and a further 0.2 per cent in December, Statistics New Zealand said.
Core retail spending, which does not include the automotive sector, rose 1 per cent, having shrunk 1.2 per cent in November and recovered no ground at all in December.
Spending on apparel rose the most, 2.1 per cent, but consumables, durables and hospitality were also higher.
The 0.4 per cent rise in sales of durable goods, the filth consecutive monthly increase, was encouraging, economists said.
"If the debt issues in Europe were having a significant effect on consumer sentiment, we would expect durable goods spending to decline," said Infometrics economist Matt Nolan.
"Given that this has not occurred, households appear to be looking past the current uncertainty."
ASB economist Daniel Smith agrees but expects the recovery in retail spending over 2012 to be gradual in light of the high level of household debt. The subdued employment growth in Thursday's jobs data also suggested some headwinds remained for households, he said.
Compared with January last year retail sales are 4.7 per cent higher - in line with the growth in aggregate wages and salaries over the past year - and core sales up 3.6 per cent, by both measures the weakest annual growth for a year.
Goldman Sachs economist Philip Borkin noted that on a three-month average basis growth in spending had been slowing and for the core sector was flat. Part of the slower growth would reflect less inflation in food and petrol prices, as well as continued discounting in other categories, he said.
Borkin expects growth in disposable incomes to slow over the next 12 months as the impact of income tax cuts rolls off.
With population growth slowing as well, stronger growth in household consumption would require a drop in their saving rate.
"We see that as unlikely. In fact we see it as more likely the household saving rate continues to rise."