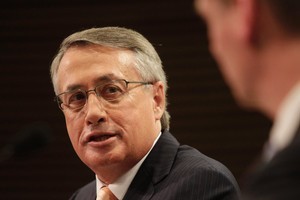 Australia's big four banks are facing an increasingly strong coalition of outraged consumers, farmers, politicians and business leaders in a stand-off over interest rates.
The Reserve Bank , by deciding yesterday to resist a third consecutive cut and hold the official cash rate steady at 4.25 per cent, may have brought some of the heat upon itself, but fury is still aimed directly at the Commonwealth, ANZ, National Australia and Westpac banks.
The central bank's decision angered sectors such as the embattled housing industry and unions covering manufacturing, tourism and other industries hard hit by the strength of the Australian dollar.
But the major banks are the prime target after indicating they would not be bound to follow any Reserve Bank rate reductions. The NAB, which yesterday reported a 7.7 per cent rise in first-quarter cash profit to A$1.4 billion ($1.8 billion), has said it will keep its standard variable rate below those of the other major banks for the rest of the year. It stopped short of promising to follow official cash rate reductions.
The banks have argued that offshore funding costs have soared because of the European debt crisis, and that local costs have also risen because of stronger competition for deposits, and from minor lenders buoyed by the axing of mortgage exit fees.
But critics have dismissed the argument, with unions and farmers saying new regulations might be needed to bring the banks into line.
Australian Council of Trade Unions president Ged Kearney said the majors could not justify failing to pass on Reserve Bank rate cuts when their combined profit last year reached A$25.2 billion and their chief executives earned a combined A$28.6 million.
The big four also slashed 3300 jobs last year, with a further 730 announced so far this year.
National Party leader Warren Truss said that only one agribusiness lender, Suncorp Agribusiness, passed on the Reserve Bank's full 0.5 per cent rate cut in November and December last year.
Treasurer Wayne Swan said there was no excuse for banks not to pass on reductions in the official cash rate, and urged customers to shop around. He said the major banks were hugely profitable, with net interest margins back to pre-GFC levels and returns on equity far higher than for American or European banks, but believed they had a right, "irrespective of any particular market condition, to maintain forever huge profitability".