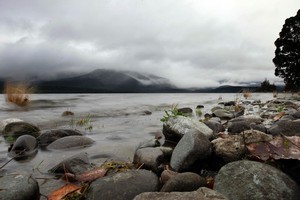 Meridian Energy has warned it could fall short of financial targets as it cuts generation to conserve water in southern hydro lakes.
The state-owned enterprise, which is in line for partial sale, says that although it has hit targets for the first half of the year, "assuming average hydrology from this point on, we see some risk to achieving our full-year key statement of corporate intent financial targets".
One of the country's biggest industrial plants, Rio Tinto's smelter at Tiwai Pt, had cut production partly because of high spot prices for electricity.
Drought in the lower South Island had resulted in low lake levels at Lake Te Anau and Lake Manapouri, whose hydro scheme directly supplies the smelter. Inflows for Meridian's hydro lakes in December were 36 per cent of the historical average.
Meridian's general manager of markets and production, Neil Barclay, said rain in the hydro catchments during the past fortnight meant the lakes were back within their main operating range. But further north lakes in the country's biggest hydro system, Waitaki, were below historical averages.
"It's low but not concerningly low. It just means we have to take a relatively conservative stance in the way we generate," he said.
"It's not a huge financial impact but we are pulling back on generation, which does reduce revenues." Meridian had targeted revenue of $43 per megawatt hour of generation for the 2011 year.
Southern lakes could continue to be under pressure. Niwa's seasonal climate outlook for February to April has forecast near-normal temperatures and rainfall for most parts of the country, but the west and south of the South Island look set to get lower-than-average rainfall.
In a release to the NZX, Meridian said that despite the dip in revenue the company was well positioned for future growth.
"Our medium-term pipeline has options well placed in the generation merit order to meet future demand growth."
It warned of transmission constraints in the South Island as the high-voltage network is upgraded and parts of it are shut down for maintenance.
"It is something that needs to be very actively managed by the industry," said Barclay.
Electricity industry participants had talks yesterday to finesse the programme for high-voltage work in the South Island to ensure power transmission is not badly affected.
New Zealand Aluminium's general manager, Ryan Kavannagh, said high power prices and low prices for aluminium late last year had forced the smelter to cut production by about 5 per cent.
"Spot power prices make it uneconomic to make aluminium. The metal price has improved in the last month or so but not the same level as we've seen the escalation in electricity prices."
The smelter had achieved record production last year of 354,000 tonnes and was still producing at relatively high levels.