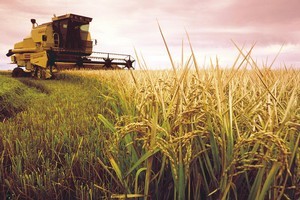 The level and manner of foreign investment in Australian agriculture is sounding alarm bells amid growing concern that the nation's own food security could be compromised.
The concern extends beyond the buy-up of farmland to control of agribusiness companies, the involvement of foreign state agencies, the potential direction of exports and prices, and the impact on regional economies.
There are also fears that productive land and water supplies are at risk from overseas interests buying farms - often at inflated prices - and shutting them down to allow coal and mineral operations.
Increasing anger is also being directed at the Foreign Investment Review Board (Firb), which is seen by critics to be failing in its role as protector of the national interest.
The Government already has a report by the Bureau of Agricultural Resource Economics and Sciences and the Rural Industries Research and Development Corporation into the economic impact of foreign investment on agriculture and its related industries.
This will flow into the national food plan currently being developed in Canberra, and will play a role in the accelerating debate on what many Australians believe is a fire sale of its large and important farm sector.
Although the report has yet to be released, there is speculation that it will detail levels of foreign investment higher than previously estimated, and that the Government is framing new policy to ensure greater transparency in foreign investment in rural Australia.
The Government will have an added spur in an inquiry by the Senate's rural affairs committee into the application of Firb's national interest test to agriculture, including purchases of farm land by overseas companies, foreign sovereign funds and other entities in the past year.
The committee is also investigating the role of the Government and its agencies - among them the Australian Securities and Investments Commission - in overseeing the test, and how similar tests are applied by other countries.
Critics have noted New Zealand's $5 million trigger for its national interest test, against the A$231 million ($303 million) applied in Australia.
Among the committee's concerns is the global context of food security and the potential impact on Australia of the loss of sovereignty over what will become an increasingly essential resource.
Submissions to the committee underscored its already apparent anger at present controls.
According to these estimates the global population will hit nine billion by 2050, with half short of water, one billion unable to feed themselves, 30 per cent of Asia's productive land lost and 1.6 billion people displaced.
Overall, 1 per cent of the world's agriculture resources are vanishing every year.
The committee was also told that in 2006-07, when the Southern Hemisphere experienced one of its worst-ever droughts, global wheat reserves were down to just six weeks' supply by the time the Northern Hemisphere harvest began flowing.
A central focus is China, which will need to feed 1.8 billion people by 2070: efforts to preserve dwindling agricultural resources are failing - 10 per cent of 230 million ha set aside for farming has already been lost to urban sprawl - and within 60 years half of the nation's food requirements will have to be imported.
The Senate committee noted a report in the South China Morning Post that Beijing's latest five-year plan targeted investment in agriculture abroad to ensure production flowed to its own food supplies.
Australian concern has been heightened since the global financial crisis, which triggered both what the National Farmers Federation described as a global food crisis and a sudden spike in foreign interest in the nation's farm sector.
In estimates now under fire in the Senate, the Bureau of Statistics said that as at December 21, 2010, Australians owned 99 per cent of agribusiness companies, 89 per cent of farmland and 91 per cent of water entitlements. Not much had changed since the bureau's 1983-84 agricultural census, senators were told.
But apart from blistering attacks on the bureau's methodology in the Senate, new figures show that in the past three years foreign investment in the sector has averaged A$2.5 billion a year. Examples included:
Global grain giant Cargill's takeover last year of the former single-desk wheat marketer AWB, which gave the multinational control of the global marketing of Australian grain. Cargill also formed a joint venture with Tey Bros Investments to create the nation's second-biggest beef producer.
The purchase of more than 40 New South Wales farms by China's Shenhua Group, a 68 per cent state-controlled mining company.
The sale of Western Australian farms to Sydney law firms acting on behalf of Korean coalminers, offering above-market prices for individual properties, each separately falling well below Firb national interest triggers.
Cargill has defended its operations, advocating the importance of viewing investment in a global context that includes potential retaliation against Australian investors by countries upset at any moves to tighten controls.
It told the Senate committee that the Government needed to ensure foreign investors would receive transparent national interest treatment to ensure the "non-discriminatory" flow of capital.
Farm groups are divided, with the NFF hedging its bets while others, such as the South Australian Farmers Federation, are alarmed at what they regard as the lack of control over essential national resources.
President Peter White told the committee he was terrified: "It would appear that the national interest test, which we had some concerns about, exists in name only and does not really have much bearing on the case.
"There appears to be a total lack of understanding of food security and food production across the world."
The view was shared by senators in their inquisition of the Firb and is likely to be reflected in the report they will hand to the Government.