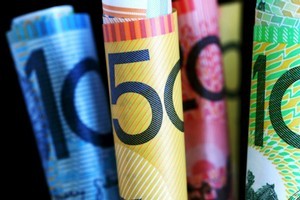 Australian shares broke their two-day winning streak to fall 1 per cent as wary investors booked profits amid more gloomy data from Europe.
Shares fell after a lacklustre German bond auction and fresh concerns about the state of Europe's banks.
Energy, resources and industrial stocks led the market lower after two days of stellar gains driven by a jump in commodity prices.
Even traditionally defensive sectors, including telecoms and healthcare, suffered amid the selloff.
At the close yesterday, the benchmark S&P/ASX200 index was down 45.1 points, or 1.1 per cent, at 4142.7, while the broader All Ordinaries index was down 42.9 points, or one per cent, at 4196.6.
On the ASX 24, the March 2012 share price index futures contract was 25 points lower at 4135, with 27,381 contracts traded.
Financial stocks shed 1.1 per cent after more record overnight deposits with the European Central Bank.
On the exchange, 1.2 billion shares were traded with a value of A$2.7 billion as seven shares fell for every two that rose.
- AAP