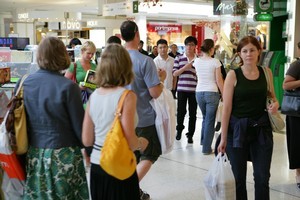 Consumer confidence has dived in the latest Westpac McDermott Miller quarterly survey, pointing to weaker spending in the new year.
The survey index fell 11 points to 101, an even steeper fall than just after Christchurch's February earthquake and the lowest since the recession's depths in early 2009, with optimists barely outnumbering pessimists.
Of the survey's five component questions, it is those relating to the economic outlook - rather than respondents' own circumstances - that deteriorated most.
"The bad news out of Europe and prognostications about what it might mean for New Zealand have perhaps reached a critical mass in the consumer's mind. People have sat up and taken notice," Westpac chief economist Dominick Stephens said.
The temporary spending boost from the Rugby World Cup was over and evidence had mounted that the domestic economy entered a lull in the second half of the year, he said.
"Particularly concerning in this regard is the fact that there was a sharp decline in households' willingness to spend on big-ticket items. This series reached similarly low levels in the 1990, 2000 and 2008 downturns, when consumption growth slowed materially."
A net 13 per cent of respondents said it was a good time to buy a big household item, down from a net 30 per cent in September.
"With falling petrol and food prices, interest rates at low levels, and little change in households' reported financial situation, it's clearly economic uncertainty which is prompting households to sit tight."
A net 22 per cent of respondents expected bad economic times over the year ahead, up from 2 per cent pessimistic in September, while their view of the economic outlook over the next five years deteriorated from a net 41 per cent optimistic last time to a net 31 per cent, the lowest level since mid-2008.
By contrast, people's assessment of their own financial situation was little changed.
A net 20 per cent said they were worse off than a year ago. But that wasn't much different three months ago, Stephens said.
And a net 5 per cent expected to be better off in a year's time, down from 10 per cent in the September survey.
McDermott Miller managing director Richard Miller said there was a marked difference between urban and rural consumers.
The latter were, on balance, pessimistic, confidence having fallen a "whopping" 18 index points compared with seven points in the big cities and secondary centres.
They cited adverse international conditions and wrong Government policies - despite the fact that the survey was conducted this month, after the election delivered no change in Government.
Stephens said rural sentiment was quite sensitive to the international economic outlook. "The idea that it is not just bumbling among European politicians but may extend to an Asian slowdown has percolated through to people."
Economists had downgraded the economic outlook over the three months between the surveys and consumers' expectations of the outlook had moved in tandem with that.
The deterioration was mainly because of worsening expectations for the global economy. "And possibly also because the degree of fiscal tightening on offer has increased."
Two of the demographic groups that were beacons of optimism in the September survey - the young (aged 18 to 29) and the better-off - have now also reported sharp falls in confidence. "By far the steepest drop in confidence, though, was seen among middle-income New Zealanders, where confidence fell from a fair degree of optimism, 107, to under 90.
"In particular, this group's expectations for their personal finances have swung from cautious optimism to net pessimism, with a net per cent now expecting their situation to get worse over the coming year - the worst since the early 1990s."