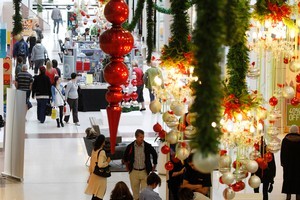 Business confidence held steady at "not bad" levels in the National Bank's monthly survey.
A net 17 per cent of firms expect the general business situation to improve in the coming year, down one point on the November survey.
That was not a bad result given the economic news from the rest of the world, said the bank's chief economist, Cameron Bagrie.
"New Zealanders seem to be just getting on with it, albeit with occasional nervous glances over their shoulders at the slow-motion train wreck that is Europe," he said.
A net 26 per cent of businesses expect a lift in their own activity over the year ahead, down three points from last month and 18 points from the peak for that indicator in July.
"The agricultural sector is surprisingly pessimistic, given the outstanding spring growing conditions experienced around the country. Perhaps it's because they have traditionally been in the front line when it comes to global slowdowns," Bagrie said.
Other indicators in the survey were mixed.
Employment intentions fell, but investment intentions rose to a four-month high.
Pricing intentions eased, with a net 17 per cent of firms expecting to raise their prices - half the net balance back in May.
But profit expectations improved for the second month in a row, though to a level still well below its mid-year high.
Overall these indicators remained "solid" relative to their historical averages, Bagrie said.
"In the broader picture things are slipping a little, and this is entirely understandable."