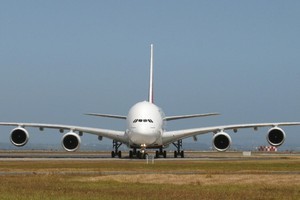 The global airline industry could face losses of more than US$8 billion ($10.25 billion) next year if European leaders fail to get a grip on the debt crisis, the International Air Transport Association warned yesterday.
The biggest threat is of the debt storm evolving into another banking crisis that triggers a deep recession in Europe and drives a global slowdown, the industry body said.
Iata director general Tony Tyler said that while this was "admittedly [the] worst case'' scenario, it was "by no means unimaginable''.
"The biggest risk facing airline profitability over the next year is the economic turmoil that would result from a failure of Governments to resolve the eurozone sovereign debt crisis,'' he warned. "Such an outcome could lead to losses of over US$8 billion - the largest since the 2008 financial crisis.''
Iata's central forecast, while less severe, also envisages tough times.
The body yesterday lowered its main estimate of airline profits for next year to US$3.5 billion from US$4.9 billion.
It kept its estimate for this year unchanged at US$6.9 billion.
And even if leaders avert a banking crisis, Iata warned that European carriers were likely to face losses of US$600 million next year, as they count the cost of economic weakness in their backyards and increases in passenger taxes.
"Even our best case scenario for 2012 is for a net margin of just 0.6 per cent on revenues of US$618 billion.
"But the industry is really moving at two speeds with highly taxed European carriers headed into the red,'' Tyler said.