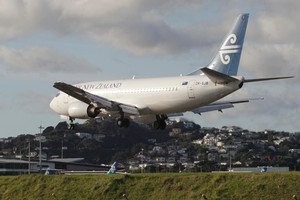 Analysts say there won't be a rush to sell more of Air New Zealand and when it happens institutions or even other airlines are likely to be among the buyers.
The Government is set to sell down its 73 per cent stake in Air New Zealand to just over 50 per cent but details of the process have yet to be released.
One analyst says weak global conditions for airlines make it a tough sale at the moment.
"It's a reasonably big block. Anyone would have to recognise that airline stocks are tough sales in any market conditions and so I'm not sure if this is a retail play," said Nick Lewis, a senior analyst and partner at Woodward Research.
"I think you're looking at an institutional investor, possibly even a strategic investor coming in and buying a big chunk."
While the Government will take steps to ensure small "mum and dad" investors will be at the front of the queue to buy shares in partially privatised energy companies, he said there would not be the same pressure with the airline given it was a riskier investment.
"It's easier to sell SOEs like Mighty River Power to New Zealanders because everybody understands what they do. Trying to sell Air New Zealand, if you exclude the rest of the world you're going to seriously hamper the price you could get."
Based on yesterday's market capitalisation of just over $1 billion, a sale of a further 23 per cent could be worth around $230 million.
Lewis said trade buyers could expect a discount on that and it was possible other airlines could buy in.
Merger activity in aviation has stepped up with Air New Zealand buying a 20 per cent stake in Virgin in Australia during the past year.
Lewis said it was possible carriers such as Singapore Airlines could be interested in a part of Air New Zealand.
"There's clearly money in airlines but it's all overseas."
Craig Brown, senior investment analyst at OnePath, said because Air New Zealand was already listed, the mechanics of a sale would be relatively easy.
"Air New Zealand's all good to go and if you thought there was demand out there you could do it in a timely manner," he said.
"What sort of price expectations do they have? In terms of price optimisation from a taxpayer point of view these probably aren't the best conditions to trying to sell down any company, particularly one with the cyclicality that something like an airline has."
Brown said uncertainty over the timing and type of sale was affecting the airline's share price "notwithstanding other issues facing that industry".
The Government hopes to make up to $7 billion from selling more of the airline and up to 49 per cent of Mighty River Power, Meridian Energy, Genesis Energy and Solid Energy. Selling one of the energy companies first would make more sense.
"The absolute dollar amount [for Air NZ] is not huge. It's not as palatable to the mum and dad investors so with the first one you'd like to give everyone a crack at it."
Air New Zealand shares traded above $3 in 2007 and $1.53 earlier this year, but closed last night at 96c.