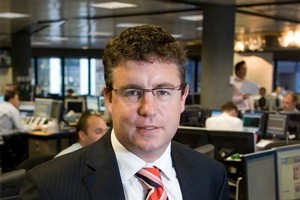 Business confidence shrugged off the negative news from Europe and picked up in the National Bank's latest monthly survey.
On the outlook for the economy over the year ahead, 35 per cent of respondents expected improvement and 17 per cent a deterioration - a net 18 per cent optimistic, compared with a net 13 per cent last month.
"It's not what we would call a convincing bounce. The five-point move is well within the realms of normal volatility from month to month," the bank's chief economist, Cameron Bagrie, said. "However after three months of steady moves lower in business sentiment, any movement to buck the emerging downward trend is welcome."
Firms' expectations of their own activity also lifted a tad, he said, a net 29 per cent expecting an uplift in activity over the year ahead, up three points from the October survey.
Other indicators from the survey were mixed. Profit expectations improved two points to a net 4 per cent expecting improvement and investment intentions recovered ground lost in October, a net 12 per cent expecting to lift investment in the year ahead, up three points.
But hiring and export intentions both declined.
Pricing intentions eased, from a net 19 per cent expecting to raise their prices to a net 18 per cent in the latest survey.
Overall, levels of the survey's indicators remained solid compared with historical averages, Bagrie said.
"A sense of stability is encouraging. With the euphoria associated with the Rugby World Cup having passed, it's back to basics and things seem to be holding in there," he said.
"Amidst a worrying global backdrop, most noticeably in Europe, this is not a bad reading to achieve.
"If we have reached an inflection point, it is unfortunately likely to be down as opposed to up.
"However, for now businesses have a reasonable spring in their step, all things considered."