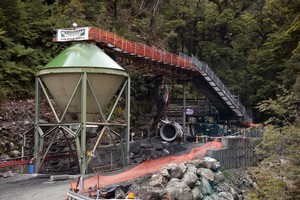 A Japanese hydro-mining expert walked off his job at Pike River, too frightened to go underground due to fears the mine could explode at any time, the royal commission of inquiry heard yesterday.
Masaoki Nishioka left the mine on October 20, a month and a day before the mine exploded, on November 19, 2010, killing 29 men underground.
With 40 years' mining experience, he helped introduce hydro-mining to the West Coast in the early 1990s at the Strongman underground mine, and was to do the same at Pike River.
The commission regards hydro-mining as a "prime suspect" in the cause of the disaster.
Mr Nishioka arrived in July last year, and by October was "too frightened" to go back underground. "I left the mine site because I felt the mine would explode at any time," he said yesterday through an interpreter.
He had told mine manager Doug White early on that he should "not send anybody underground" before a robust ventilation system was in place, and a second escapeway provided.
"This is clearly what I told to [Pike River CEO] Peter Whittall as well."
When hydro-mining began in October, Mr Nishioka said methane levels surged so high the power tripped off. Air was leaking past a door, so there was not enough left to flush out the gas.
Management soon began complaining that not enough coal was being produced, he said, despite a main fan to flush out dangerous gases not running.
Management should have pushed staff to get the main fan running before worrying about production, he said.
"Many mine staff appeared to be 'yes men'. It seemed to me that they wanted to stay out of trouble with management."
The organisation was not functioning and appeared to have "no commander".
When he tried to find out who was in charge of the ventilation, or the contractors, he was told to "ask somebody else, ask somebody else".
He passed hydro monitor operating instructions on to staff, but was not sure if they understood. Training would take three or four years.
Mr Nishioka said the area to be mined was too close to pit bottom and the gassy Hawea fault.
Pike River Coal could not let the roof cave in as it extracted coal - the process used at Solid Energy's Spring Creek underground mine on the West Coast - because it did not want the conservation land above to subside.
But that would leave a dangerous gas pocket, he said.
He believed the hydro-mining equipment was wrong, including a pipeline which was possibly not strong enough, and the motor for the main fan was not flameproof.
When it was turned on in October, he saw sparks come from it.
Before leaving Pike River, he warned several staff of the risk of explosion, including Terry Moynihan, George Mason and Pieter van Rooyen.
HYDRO-MINING
* A complex process where a jet of high-pressure water is used to break the coal face, and coal sluiced out to a collection point.
* Pockets of methane from the extracted coal can collect underground if there is not proper ventilation.
* Pike River did not allow cave-ins of areas where coal was extracted due to DoC rules - causing further methane risks.