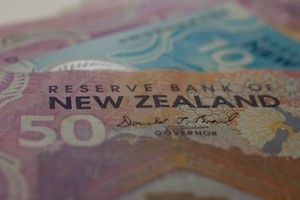 Most chief executives - 67 per cent - are against proposals for the Reserve Bank to adopt a more aggressive interventionist approach to stop New Zealand dollar "spikes".
But 21 per cent say it should be tried. And though 46 per cent also oppose trying new approaches to iron out volatility in the New Zealand dollar's level, 37 per cent say it should be given a go.
National Prime Minister John Key and his Finance Minister Bill English are strongly against interference. But Labour's finance spokesman David Cunliffe says the Reserve Bank should aggressively address NZ dollar volatility saying this might disincentivise speculators who drive the currency up.
Cunliffe promises a wide-ranging approach to controlling the exchange rate, which hit a post-float high of US88.43 against the greenback in August, should Labour lead the next Government.
A major agriculture exporter noted his company hedges to cope with volatility: "The real issue from my perspective is a poor balance of payments which leads to high interest rates and a high NZ dollar, which takes us back to competitiveness and incentives to save."
Some suggested it was worth looking at investigating whether there were mechanisms to manage volatility.
"The problem is vexing, we need a stable dollar to assist the New Zealand exporter," said Mainfreight's Don Braid.
"However we do not have the financial resources to fix our exchange rate as Singapore and China do."
Others said it would be "playing with fire", "a waste of time unless we think the Reserve Bank can control the Australian dollar as well", and that "George Soros would have a field day!"
"If you try to manage it with the Reserve Bank intervening it will be like standing at the beach at low tide throwing money at the tide, trying to stop it coming it," said Westpac Institutional Bank's David McLean.
"Global capital flows are far more powerful than any firecracker or popgun the Reserve Bank's got. All the Reserve Bank can do is send a little signal when they think it's overvalued."
"The Reserve Bank's balance sheet is too small to be a long-term credible threat on currency pricing via intervention," said the NZX's Mark Weldon. "A move to a more balanced 'inflation plus output' basis in the Reserve Bank Act would create a bit more uncertainty for currency traders and thus see fewer 'one way' bets based on inflation indicators."
A company chair noted that the global discussion around financial transaction taxes is gaining momentum to differentiate between short and long positions around currency flows, which may lead to a change in approach.
Others said Kiwi companies should concentrate on risk-mitigation policies.