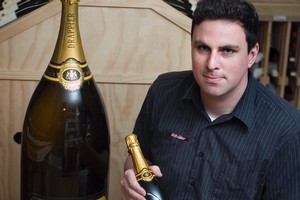 With festive season parties looming, a sure way to keep all your guests' glasses topped up is with a giant $10,000 bottle of champagne.
The hand-blown glass champagne bottle of Drappier Carte d'Or Non Vintage is the the equivalent of 40 750ml bottles.
Only French champagne house Drappier makes the 30-litre bottles, known as Melchizedeks, the largest in the world.
Wine retailer Glengarry has one in the cellar of its Victoria Park store, waiting for someone to buy it. Drappier started making the bottles because a customer kept asking for larger and larger bottles.
"He would ring and say, 'I would like a large bottle for my birthday' and they would produce one ... then year by year the man kept ringing and asked for a bigger one," said Glengarry general manager Liz Wheadon. "So Michel Drappier started making these bottles for the surgeon for his parties where he said he had too many friends and he liked them all drinking from the same bottle."
Ms Wheadon said about 20 per cent of Melchizedek bottles exploded during fermentation.
- staff reporter