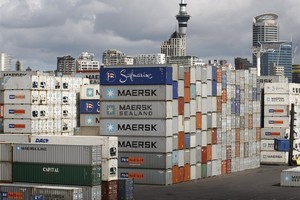 Australia is New Zealand's biggest trading partner by a long way, taking 24 per cent of exports in the year to June 2010.
While the "lucky country" got through the global financial crisis better than many countries and its mining industries continue to boom, a decline has become evident in its domestic economy - particularly in the building sector.
This is already having an effect on New Zealand exporters, who benefited from Australia's economic resilience during the recession.
This month, tap and showerware maker Methven downgraded its full-year profit expectations by up to $3 million, largely because of a fall in Australian construction activity.
At about the same time, Fletcher Building - New Zealand's biggest listed company - said difficult trading conditions, particularly across the Tasman, would cut its first-half earnings by 10 per cent.
And on October 12, carpet-maker Cavalier Corporation advised the market that sales of some of its products during the three months to the end of September were 20 per cent down on the previous year.
Again, Australia was listed as one of the main culprits for the drop.
The situation across the Tasman would be a concern for some firms and less of a worry for others, said New Zealand Manufacturers and Exporters Association chief executive John Walley.
He said Australia's manufacturing sector was facing big challenges as a result of the aussie dollar's meteoric rise against the greenback over the past year, which made its exports less competitive.
That was affecting New Zealand firms that made components for Australian manufacturers, which had seen a drop in demand because of the foreign exchange situation, Walley said.
ExportNZ executive director Catherine Beard said many local exporters were still finding Australia a vibrant market, although some Australian customers were becoming more risk averse than they had been.
"I think, relative to the rest of the world, Australia is still not in a bad space," she said.
Jared Vaughan, general manager of Hawkes Bay company Future Products Group, which makes temperature-controlled food display cabinets and exports about 35 per cent of its products in Australia, said that market was still holding up for the company.
Australian sales this year were 100 per cent up on the last, and there were no signs that the hospitality businesses the firm supplied were holding back on spending, he said.
Vaughan said the company also had a competitive advantage over its Australian competitors because of lower wages paid in New Zealand.