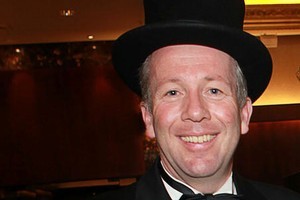 Life is slowly returning to normal for thousands of businesses hit by the leak in the Maui gas pipeline, as cafes and small businesses were yesterday told they could turn the gas back on.
Gas is available to residential customers, hospitals, rest homes and essential services, leaving only large businesses, which were told they had to wait until the weekend for gas to return.
"It's just fantastic news, and it's fantastic that they've identified that the smaller restaurants and bars could reopen," said Hospitality Association Auckland branch president Warren Stewart.
"From the members I've spoken to, they've just been absolutely rapt with the decision, and they're just looking forward to a good trade over the weekend."
The Hotel Council's Auckland chairman, Jeffrey van Vorsselen, said city hotels facing gas restrictions were working together to ensure minimal disruption to guest services.
"Auckland hotels are very much open for business, and I would like to reassure visitors ... that their visits will not be impacted," he said.
Burger King, which shut most of its 41 restaurants north of Taranaki on Tuesday, also reopened last night.
"It's good to be open for business again," said Burger King spokeswoman Rachel Allison.
"We rely on gas to power our open-flame cookers. This has meant the Maui pipeline leak has affected our business more strongly than some."
About 5000 businesses in the North Island are believed to have been hit by the gas shortages as a result of the Taranaki leak.
Acting Minister of Energy Resources Hekia Parata said residential savings made it possible for another band of users to be brought back on. This included cafes, smaller restaurants and motels and drycleaners.
"As long as we all use gas as moderately as possible, we will be able to sustain that service," she said.
The minister said the leak was the first incident in more than 30 years for the Maui pipeline. It was the result of underground movements and had nothing to do with maintenance.
Erosion under the pipeline is thought to have caused a 13cm rupture.
Vector chief executive Simon McKenzie said yesterday that excavation to repair the pipe went "really well" overnight and the pipe was found to be in good condition with "no evidence of corrosion".
A failed weld is believed to have caused the leak, and there were no problems with the pipe, he said.
Although the repairs were ahead of schedule, he said it would still take at least two days for the gas to return.
"That's the best estimate at this point of time. I'm not wanting to over-promise."
The pipe was "purged" of dangerous gases yesterday, which was essential because of its explosive nature.
Mr McKenzie said compensation for businesses affected by the leak, if any, was a matter to be resolved between customers and their gas retailers.
Meanwhile, the Auckland Council switched to alternative fuel supplies to get its three crematoria up and running yesterday.
Manukau, North Shore and Waikumete all resumed cremation services yesterday afternoon.
"Our energy supplier has given us priority and we don't anticipate any further disruption to this vital service," said parks, sports and recreation manager Ian Maxwell.
He said the council had worked "tirelessly" with engineers to ensure the crematorium services were restored.
But Clifton Thomson, general manager of Purewa Cemetery and Crematorium, said all the non-council-run crematoria were unable to operate.
PIPELINE PAIN
* 5000 businesses affected by gas leak since Monday.
* Erosion of the earth under the pipeline is thought to have caused a 13cm rupture.
* All large commercial and industrial users asked to stop using gas.
* Residential users, hospitals and essential services asked to be careful with usage.
* Cafes and small retailers given approval yesterday to turn gas back on.
* At least two days before leak is repaired.