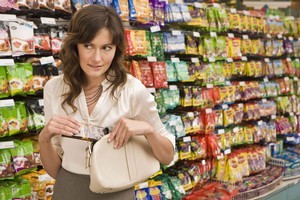 Australasian retailers lost $2.52 billion as a result of shoplifting, employee crimes and administrative errors in the year to June, research reveals.
A large study of the world's biggest retailers by Britain's Centre for Retail Research says shoppers on both sides of the Tasman are paying an additional $367 each year as a result of businesses increasing their prices to recoup the losses.
The research, conducted in conjunction with Checkpoint Systems, which provides labelling and stock loss prevention systems for retailers, says "shrinkage" - loss of products through employee theft, shoplifting and administrative mistakes - rose 6.6 per cent globally in the year to June to US$119 billion ($150 billion).
Over the same period in Australasia, shrinkage rose 2.9 per cent - a far lower rate than in parts of Europe facing serious economic strife, such as Greece (7.7 per cent) and Ireland (8.3 per cent).
The research did not surprise New Zealand Retailers Association spokesman Russell Sinclair, who said shop theft was estimated to cost retailers here about $800 million a year.
Every item of lost stock went straight to the bottom line, he said.
"The only way that can be recovered is by having it as part of the margin and pricing - we're all paying for it."
The biggest challenge was getting offenders to court, and even then the penalties were often too light to discourage potential thieves.
Briscoe Group managing director Rod Duke said shrinkage rates probably ran from about 0.5 per cent of sales in businesses with good security systems to 3 per cent for those with poor systems.
He would not say where the group's businesses (Briscoes, Rebel Sport, Living & Giving) sat on that scale but said: "We're pretty happy where we are but always try to make it less."
The research said employee theft was Australasia's biggest problem at 45 per cent, outweighing shoplifters at 37.3 per cent.
The managing director of Checkpoint Systems Australia and New Zealand, Mark Gentle, said: "Greater access to internet combined with the huge increase in popularity of online retail has made internal theft even more appealing for employees."
Employees were not only stealing for their own use but also to make money. Some retailers had caught single staff members selling more than $200,000 worth of stolen products on the internet.
New technology such as self-checkout systems caused losses as items were incorrectly entered into the till or not entered at all.
Economic conditions also made a difference. "Last year's results of decreasing shrinkage has reversed," Gentle said.
"In tougher times we've seen retail theft increase at an extraordinary rate."
LOST STOCK
* Employee crimes, administrative errors and shoplifting cost retailers $150 billion globally in the year to June.
* In Australia and New Zealand they cost $2.52 billion.
* Research suggests Australasian shoppers are paying an additional $367 each year as retailers make up for the losses by increasing prices.